1 on 1 Testing
Trying to decide between two models? There is a lot more to this sort of decision than price, so we see if we can help you decide which is best for your needs. For more information and product comparisons, check out our longer article here.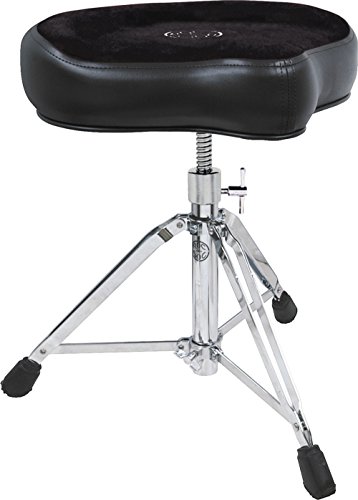 Everyone has different preferences, and we hope our frank reviews will make your decision easier. First, we will take a look at the Original Saddle ROC-N-SOC Drum Throne. Some products seem to sell themselves and just jump off the shelves right down into your shopping cart, and we must say, this saddle drum throne seems to be exactly that kind of product. People seem to be extremely pleased with it and most reviews say that this is the one to go for, don't even bother looking into other drum thrones.

Next let's have a look at the Rockville RDS30 Deluxe. If you have limited space and need a small throne that's easy to fold and put away and doesn't take up much space even when it's used, then chances are you're going to love this one from Rockville.
A deeper look at the features of the Original Saddle ROC-N-SOC Drum Throne
While we don't believe that it's much better than most drum thrones in the same price range, we believe that it's a good product that definitely does the job. It has a motorcycle seat which is great and makes you sit tall with good posture, which is both going to help your technique as well as save your back and neck. It also looks very good, which might not be very important, but still.
Reasons to buy the Rockville RDS30 Deluxe
It's a budget option that does what it says on the box, but perhaps not much more. It doesn't swivel, but it is easier to adjust the height on than many other budget alternatives. It has shock absorbing rubber feet that provide great stability and it's lightweight but sturdy. It seems that sturdiness and durability have been the most important things for Rockville when they designed it, and it seems like they've accomplished what they set out to do.
HEAD TO HEAD COMPARISON
Original Saddle ROC-N-SOC Drum Throne
Rockville RDS30 Deluxe
KEY FEATURES
+ Motorcycle seat
+ Stable
+ Comfortable
+ Makes it easy to sit tall


+ Affordable
+ Foldable
+ Lightweight
+ Durable
+ Rubber feet
+ Shock absorber


WHAT OUR TEAM THOUGHT
Any drummer who wants something comfortable to sit on with a motorcycle seat design which enables you to sit upright could benefit from these drum stools. It's really easy to adjust the height as well, so if there are several people that are going to be using it, this is a perfect drum throne. Sure, this saddle drum throne does cost more than some other drum seats, but it is really good and is going to last for many years to come.
We imagine the perfect customer for this throne to be somebody who lives in an apartment and doesn't have much space and needs to be able to fold the throne up in between uses, and who also wants to buy a throne that is affordable as well as durable, in case they have to bring it with them or they move a lot. This is probably not a stool that advanced drummers would buy, but it works well for people who play once in a while.
The Bottom Line
Also see Music Critic's article The 10 Best Drum Thrones which includes even more information.
Other product comparisons: