Select and Compare: Neumann KM184 MT Cardioid Studio Condenser to the Miktek PM10
In this brief comparison, we are going to be putting two products head to head. Find out what separates these two items with the full comparison review below. You might also be interested in our article The Top 10 Best Drumming Microphones For Your Kit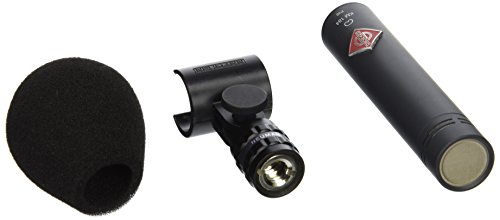 Everyone has different preferences, and we hope our frank reviews will make your decision easier. First, we will take a look at the Neumann KM184 MT Cardioid Studio Condenser.

Next up is the Miktek PM10. Miktek's mics are very solid and dependable and will give you only quality sounds. They are a bit more expensive than our previously reviewed mics, ranging from 200-300$ depending on the offer you catch. If you are looking for a drum mic that can represent all the sweat and tears you put into your drum practice sessions, you can be sure that Miktek will do that faithfully.
Examining the Miktek PM10
The Miktek drum mic offers you a capsule design that will give you the opportunity to reproduce your drum kit sounds with the best accuracy. It's a dynamic mic that is usually used with tom-toms and snares. You can rest assured that you will experience only full and robust sounds from Miktek's high-quality product. You don't have to be worried about the mic being damaged during delivery either, it's carefully packaged and comes in a protective case and a commonly used drum mics clip.
HEAD TO HEAD COMPARISON

Neumann KM184 MT Cardioid Studio Condenser

Miktek PM10

KEY FEATURES

+ transformerless circuitry
+ professional sound
+ sensitive and reliable



+ capsule design for tailored reproduction of sounds
+ optimized for snares and tom-toms
+ sturdy, durable and accurate



WHAT OUR TEAM THOUGHT

Neumann's mics are sought after professionals that are looking for quality recording technology with a sleek design. With that said, we can see why this is one of the best quality microphones to be investing in even if it's a bit more on the pricey side. The product is reliable and gives the best recordings that your drum kit certainly deserves!

Miktek allows even beginner drummers to achieve high-quality recording sounds with the PM10 mic. It's right in the middle of the price range, it's not astronomically expensive but not cheap either. It's one of the best investments if you need new drum mics to record your snares and tom-toms and reproduce their sounds with the stunning quality!
Want to find out more?
Check out Music Critic's in-depth reviews which includes these two plus other potential contenders.
Other product comparisons: