1-v-1 Product Comparison - the Audix D6 Dynamic vs the Beyerdynamic TG-D58C
Today Music Critic will be comparing the Audix D6 Dynamic to the Beyerdynamic TG-D58C. There is a lot more to this sort of decision than price, so we see if we can help you decide which is best for your needs. You might also be interested in our article The Top 10 Greatest Drumming Microphones For Your Kit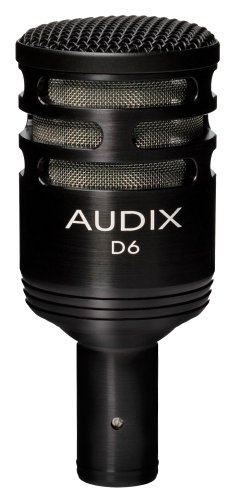 Everyone has different preferences, and we hope our frank reviews will make your decision easier. First, we will take a look at the Audix D6 Dynamic. The Audix top quality dynamic mic comes in a stylish black design that will make you look like a professional from the get-go. It works at its best when you place it near floor toms, a kick drum or bass cabs. Not only that, but it can also handle very high sound pressure levels without screeching or distorting them; something common to other cheaply made drum mics on the market.

Next up is the Beyerdynamic TG-D58C. Beyerdynamic's product is also a very affordable option that will provide you with quality sound. This is one of the mics that actually comes with a gooseneck included in the price already. The gooseneck is available to be either flexible or angled and it's compact while also possessing a horizontal swivel point. It has a wide transmission range and comes with a clamp so that you can set it up wherever you desire on your drum kit!
A closer look at the Audix D6 Dynamic
Audix tests all of their microphones before they ship them out onto the shelves and you can be sure that the D6 is no exception. You will only experience high-quality sounds with clear playback. The diaphragm also gives a fantastic transient response for whenever you will be quickly hitting the kick or snare drums and will only give you the best quality recordings. It isn't picky about where you should place it and improves kick drum sounds significantly.
Examining the Beyerdynamic TG-D58C
It's a very small drum mic that does a fantastic job and works like a charm. One of its new features is the expanded frequency range that allows it to capture more sounds than Beyerdynamic's previous mics. You can clip this little portable to any drum rim you desire and get quality results with just one product.
HEAD TO HEAD COMPARISON
Audix D6 Dynamic
Beyerdynamic TG-D58C
KEY FEATURES
+ handles high-pitched noises without distortion

+ allows for clear recordings

+ portable


+ comes with gooseneck

+ small and portable

+ faithful reproduction of drum sounds


WHAT OUR TEAM THOUGHT
Audix provides the market with a fantastic drum mic for recording your drumming kit sessions.It can be placed anywhere around the drum kit and still give quality recordings and will capture any high-pitched sounds without distorting them in any way. If you are looking for a good-quality drum mic, Audix's D6 is a fantastic option!
Beyerdynamic not only gives us high-quality gear that will improve our recording sessions, but it also gives us accessories such as the gooseneck that can be twisted and manipulated in any way to suit your drumming needs. No matter if you want to record your snares or cymbals, this drum mic will do its job with the best pride whenever you decide to put it to use!
Read the complete review
You might also be interested in Music Critic's in-depth article on this topic, The Top 10 Greatest Drumming Microphones For Your Kit.
Related product comparisons: