Side-by-side comparison of the Yamaha YDP143R and the Alesis Recital
See how the Yamaha YDP143R stacks up against the Alesis Recital in today's product comparison. Find out what separates these two items with the full comparison review below. You might also be interested in our article Top 10 Best Digital Pianos for Under $1000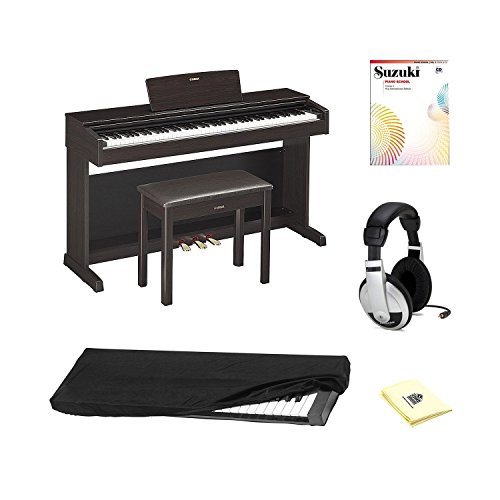 The first product we will be looking at is the Yamaha YDP143R.

And now we will have a look at our second product, the Alesis Recital. Many adult beginners wish that they would have time and money for piano lessons but know that they won't be able to commit fully. Then this piano from Alesis might be a great alternative! A 3-month premium subscription for interactive piano lessons online is included with this piano, which is a good introduction to the instrument.
A closer look at the Alesis Recital
This is a full-sized beginner piano that has an adjustable touch sensitive response, so you can choose how light or heavy the keys feel. Another good thing about this piano is that you can split the keyboard (known as split keyboards) into lesson mode so that you have to identical halves, making it easier for the teacher to demonstrate. You can also layer different instrument sounds, for example, if you want to play with both the string sound and piano sounds together.
HEAD TO HEAD COMPARISON

Yamaha YDP143R

Alesis Recital

KEY FEATURES

+ Console piano
+ Available in dark rosewood and black walnut
+ Amazing sound and feel
+ Control it with an app



+ 88 keys full-sized digital piano
+ Sleek design that takes up minimal space
+ Skoove 3-month premium subscription for interactive online piano lessons
+ Great Beginner Digital Piano
+ USB port MIDI
+ Fantastic sound quality



WHAT OUR TEAM THOUGHT

If you are a pianist that is serious about your piano playing, you should get yourself one of these! It's outstanding and will enable you to practice the piano at a lower volume but still keep the feel of an acoustic piano.

This is a great piano for beginners that sounds wonderful and is nice to play. The 3-month subscription to online lessons is a big plus as well!
The Bottom Line
Check out Music Critic's in-depth reviews which includes these two plus other potential contenders.
Similar Product reviews: