1 vs 1 Comparison
Music Critic review products for professionals and enthusiasts, and are designed to help making a choice easier. Find out what separates these two items with the full comparison review below. If you would like to see more product comparisons and reviews in this category, click here.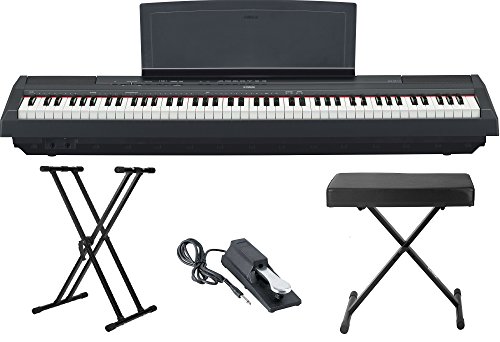 Everyone has different preferences and priorities, so to make choosing easier we have attempted to give a frank review of the products. Let's start with the Yamaha P115.

Now we will have look at an alternative, the Casio Privia PX-160. If looks are important to you you'll love Casio Privia PX-160! It's available in classic black, which is nice enough, but the piano really shines in the second color option which is a champagne goldish color that looks amazing. The piano is also very slim and sleek and is perfect if you want a compact piano that is easy to move around.
But what about the Casio Privia PX-160
The piano has 18 different instrument sounds and extremely good built-in speakers for this price point. If you want to record or compose music you can easily connect it to a table or computer with MIDI. It comes with a 3-year manufacturer's warranty, which feels good. It means that Casio not only takes responsibility in case something should be wrong with your piano that isn't your own fault, but they also have great confidence in their products.
HEAD TO HEAD COMPARISON
Yamaha P115
Casio Privia PX-160
KEY FEATURES
+ Graded hammer standard action keys
+ Control it with an app
+ Concert grand piano sampled sound
+ Available in black and white


+ 88 keys full-sized digital piano
+ 3-year manufacturer's warranty
+ 18 voices
+ USB port MIDI controller
+ Slim and light-weight
+ Great speaker system


WHAT OUR TEAM THOUGHT
This is a great piano for all kinds of pianists, no matter if you're a beginner or an advanced player. It sounds amazing and it's a fun feature that you can control it using an app.
You might ask yourself, "What is special about this piano? Why should I pick it over all the others?" The answer is: It looks great, which is the thing about it that stands out the most, but it also sounds wonderful and has really good built-in speakers. Check out the Casio Privia PX860 as an alternative.
Read the complete review
You may also be interested in our article Top 10 Best Digital Pianos for Under $1000.
Related head-to-head product reviews: