Select and Compare: La Patrie Etude to the Cordoba C9 CD/MH
Trying to decide between two models? You might think it all comes down to the price, but frankly there is a lot more to it. For more information and product comparisons, check out our longer article here.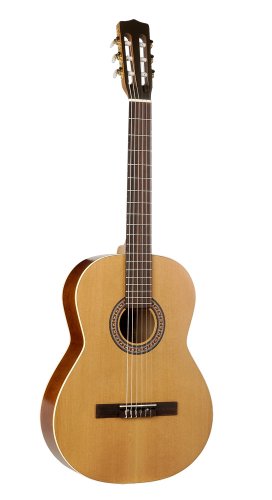 First, let's have a look at the La Patrie Etude. This particular La Patrie guitar is probably the most popular and the most beloved model form the La Patrie production line. The harmonics and rich sounds are the two key features that are easily overlooked when looking at this guitar. It's easy to get carried away by looking at the affordable price and beautiful craftsmanship! The Etude is designed to help you achieve and develop your classical playing skills the best you can due to its versatility.

The second product we are looking at in this head-to-head review is the Cordoba C9 CD/MH. The C9 model is another guitar from Cordoba's C series, and the last in this particular production line. It came out right after the Orchestra CE and has been loved by many customers unconditionally throughout the years of its production. This made the C9 quickly become a best-seller. Even though the C9 is the most expensive C series candidate, it's well worth the buck thanks to all of the features that Cordoba has to offer with this model. If you into the old-Spanish guitar look, the simple tried and test appeal of the Cordoba C9 will suit you perfectly.
A deeper look at the features of the La Patrie Etude
Sound
Let's take a closer look at the Cordoba C9 CD/MH
Sound
HEAD TO HEAD COMPARISON

La Patrie Etude

Cordoba C9 CD/MH

KEY FEATURES

+ Neck size and stability
+ Quality, 800 year old cedar wood top
+ Special, light lacquer finish
+ Rich sounds and harmonics
+ Left-handed model available



+ Hand crafted
+ Old-Spanish style look
+ Concert-level guitar
+ Affordable
+ Comes with polyfoam case



WHAT OUR TEAM THOUGHT

Thanks to the light-weight custom matte polish, this guitar is able to be more responsive to sounds and subtle plucks. Why does this matter? Because the finish is light enough to encourage the wood to breathe and vibrate accordingly, in turn helping you produce clear, accurate sounds. Some guitars have thick amounts of polish layered on the top and clog up all the sounds, making the guitar sound dull and flat. Cons: - Fret wires may be too long - May be too bass-y for some

All of Cordoba's guitars are handcrafted and it shows through in the sound. If you're an advanced, intermediate, or beginner guitarist with a big dream, then this guitar will keep you company for years to come if you decide to invest. If you're a professional looking for your next concert-level guitar, this is also a wonderful pick that comes at an affordable price. Cons: - May not have enough bass for some players
Read our full review
You might also be interested in Music Critic's in-depth article on this topic, Top 10 Best Classical Guitars Under 1000 Dollars.
Other product comparisons: