Compare the Cordoba C7-CE CD/IN to the Alhambra 3C-CW-US
See how the Cordoba C7-CE CD/IN stacks up against the Alhambra 3C-CW-US in today's product comparison. Our tests and reviews can help point you towards models and brands that suit your needs. If you would like to see more product comparisons and reviews in this category, click here.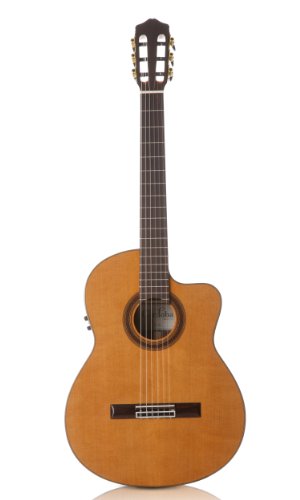 The first product we will be looking at is the Cordoba C7-CE CD/IN.

The second product we are looking at in this head-to-head review is the Alhambra 3C-CW-US. Alhambra is a Spanish company that has been creating guitars since 1965, and it's easy to say that they pride themselves on having the best guitar in the world both for flamenco and classical players. 110 professional workers craft each instrument that comes from Alhambra. Each employee puts their heart into creating the best possible guitar for their future customers, and the Alhambra 3C-CW is no exception. This semi hollow body guitar comes with a cutaway that is ideal for those players that like to have an easier time reaching the higher strings.
Taking a look at the features of the Alhambra 3C-CW-US
Sound
HEAD TO HEAD COMPARISON

Cordoba C7-CE CD/IN

Alhambra 3C-CW-US

KEY FEATURES

+ Comes with a gig back
+ Includes quality strings
+ Solid, Canadian cedar top
+ No loss of tone or amplitude



+ Comes with warranty
+ Light-weight
+ Left-handed model available
+ Comes with hard case



WHAT OUR TEAM THOUGHT

With a total of 19 frets, you will be able to play the highest flamencos with this beauty. The traditional fan bracing featured in this guitar helps both intermediate and beginner guitarists achieve a rich, resonant sound. This kind of distinct tone is perfect for performing on stage or in a recording studio. Cons: - Action may be too high

This guitar is the most sought-after model in Alhambra's cutaway production line. If you're eager to have a genuine Spanish classical guitar that emanates sound as warm as the Spanish sun, then the 3c-CW should be the perfect choice for you. The 3C-CW is built with steel-string players in mind too, since the neck is slightly narrower than it is common for standard classical guitars to have. Cons: - May feel bulky for some
Read the complete review
Music Critic did a post with even more information on this topic. Click here to see it.
See more head-to-head comparisons of products: