How do they stack up? The Yamaha C40 vs the Antonio Giuliani CL6
In this brief comparison, we are going to be putting two products head to head. The team take this task very seriously - two products enter, but only one can leave. If you enjoy this article, you can also check out the full version here.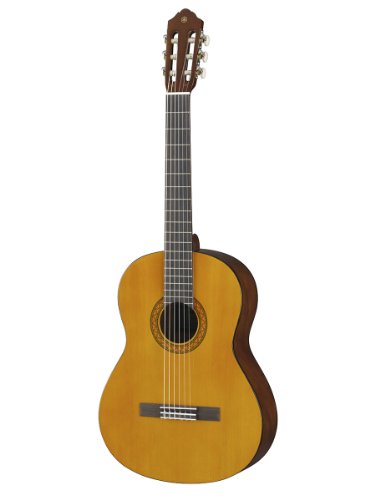 Everyone has different preferences, and we hope our frank reviews will make your decision easier. First, we will take a look at the Yamaha C40. Yamaha is one of the most popular guitar brands in the music industry, and it's easy to see why their traditional classical guitar is so well beloved. With over 100 reviews and mostly 5-star reviews, this guitar has won the hearts of many since the year 2000 and continues to do so thanks to its affordability and quality. Yamaha knows how important it is to create products that will suit everyone, both sound, price and design wise and that's why they made the C40.

The challenger is the Antonio Giuliani CL6. If you are tired of looking at nylon string guitars that have astronomical prices and no accessories to help care for them, then we have a great solution for you! This Antonio Giuliani guitar comes in a full bundle with all the accessories you could ever ask for. If you are not convinced yet, all Giluiani guitars are labeled with a lifetime warranty and 45-day money back policy.
Taking a look at the features of the Yamaha C40
The Indonesian mahogany back and sides help the guitar stay strong and durable no matter what kind of intense practice session you put it through. The melamine gloss finish will help the C40 stay fresh and like new for years. The mellow sound will suit anyone that is looking for a simple, engaging sound and is perfect anyone that is taking guitar lessons. Not only that, the C40 is also listed in the Top 10 in the guitar category on Amazon and is also on the list of Amazon's Choice products. One doesn't have to look far to notice that this guitar is a very popular choice among people looking for an affordable and quality guitar.
Let's take a closer look at the Antonio Giuliani CL6
If you don't like the product, all you need to do is pack it back up and return it! And no matter what happens to your guitar, whether it arrives damaged or you notice some inconvenient craftsmanship inconsistencies, the lifetime warranty will have you and your guitar covered.
HEAD TO HEAD COMPARISON
Yamaha C40
Antonio Giuliani CL6
KEY FEATURES
+ mellow, clear sound
+ good low action
+ gloss finish


+ lifetime warranty
+ comes with case
+ rich and smooth tone
+ Solid Canadian cedar top


WHAT OUR TEAM THOUGHT
Yamaha provides its customers with a guitar that is a durable, quality product provided at a fantastic price. If you have been looking for a guitar that will not rob your savings but will still provide you with quality sound that you enjoy and can work with, Yamaha's guitar is the one for you!
If you are looking for a guitar that comes packed with great accessories like a guitar tuner (click for full guide), capo and extra string set as well as a case, then this bundle is the best choice for you! The solid Indian rosewood and cedar solid woods used to make this guitar help it easily achieve the beautiful tones that it's capable of producing.
Want to find out more?
You might also be interested in Music Critic's in-depth article on this topic, The Highest Rated Classical Guitars for under 500 Dollars.
See more head-to-head comparisons of products: