1-v-1 Product Comparison - the La Patrie Etude vs the Yamaha CG122MCH
Music Critic review products for professionals and enthusiasts, and are designed to help making a choice easier. There is a lot more to this sort of decision than price, so we see if we can help you decide which is best for your needs. This article is part of a series called The Highest Rated Classical Guitars for under 500 Dollars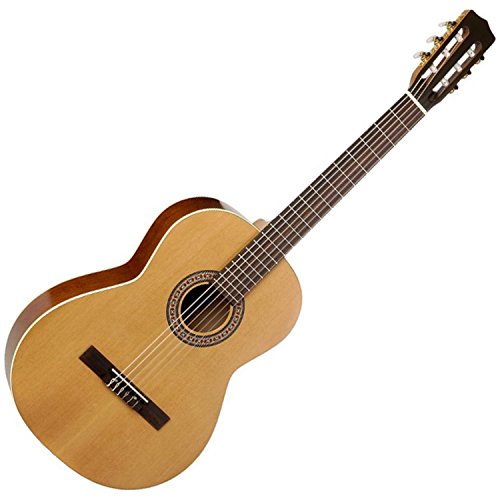 First, let's have a look at the La Patrie Etude. Having been on the market for over a decade now, this La Patrie classical guitar has earned countless fans during this time. We're certainly part of that group of admirers too. It's a no-frills guitar, with a simple design, and it delivers a crisp, clear sound. It's designed to make learning and playing as easy as possible without it being loaded with unnecessary extras that most budding guitarists won't require.

Now we will have look at an alternative, the Yamaha CG122MCH. This customizable, Yamaha classical guitar offers that well-known value-for-money guarantee that we expect from this world-famous brand.
Examining the La Patrie Etude
The slightly curved fingerboard helps your fingers to find their place, which improves technique, and this means that you will be able to play complicated pieces of music in no time. This is an awesome feature for beginners, in our opinion. It also allows for an easier grip of the guitar strings making them easier to play.
Taking a look at the features of the Yamaha CG122MCH
You have several choices when it comes to customizing the product before purchasing it, such as choosing the style of the top of the guitar, of which there are three options: a solid cedar top, a solid spruce top, or a simple spruce top. There are also different styles to choose from, such as a classic acoustic or an acoustic-electric guitar (click here for the top 10). The natural matte finish helps this guitar stand out without making it too showy or flashy at the same time.
HEAD TO HEAD COMPARISON

La Patrie Etude

Yamaha CG122MCH

KEY FEATURES

+ Solid cedar top
+ Radiused fretboard
+ Simple, no-frills design



+ Low string action
+ Customizable
+ Wonderful tone



WHAT OUR TEAM THOUGHT

This guitar by La Patrie has been popular for a long time, and we're big fans for many reason, one of which is the pressure tested cedar top that remains solid and intact even after hours of play. When the price is taken into account, this instrument delivers exceptional value-for-money. A safe pick, in our opinion.

This classical guitar from Yamaha has it all. The sound, tone, and projection are all exceptional. And the ability to customize it is another big plus. It's an excellent choice if this is the instrument that you pick.
Want to find out more?
You might also be interested in Music Critic's in-depth article on this topic, The Highest Rated Classical Guitars for under 500 Dollars.
Related head-to-head product reviews: