1-v-1 Product Comparison - the La Patrie Etude vs the Yamaha CG122MCH
Music Critic review products for professionals and enthusiasts, and are designed to help making a choice easier. There is a lot more to this sort of decision than price, so we see if we can help you decide which is best for your needs. This article is part of a series called The Highest Rated Classical Guitars for under 500 Dollars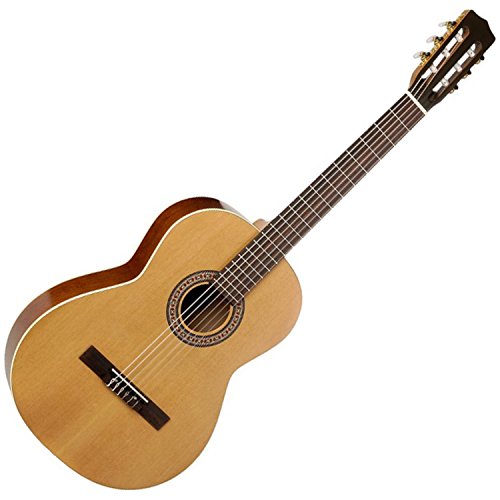 First, let's have a look at the La Patrie Etude. Having been on the market for over a decade now, La Patrie's classical guitar has been a favorite among many customers. It's a simple guitar, with a simple design and clear sound. If you have been looking everywhere for a good product but have quickly found that many of them have useless features, then La Patrie guitar etude can offer you a fuss-free experience thanks to its fuss-free design. The slightly curved fingerboard will help your fingers quickly find their place and you will be able to play complicated pieces of music in no time.

Now we will have look at an alternative, the Yamaha CG122MCH. Yamaha's CG122MCH guitar is the go-to guitar for many customers that are looking to combine low-budget shopping with quality content. Yamaha gives us several choices when it comes to customizing the product before purchasing it, like choosing the style of the top of the guitar, of which there are three options: a solid cedar top, a solid spruce top and a simple spruce top.
Examining the La Patrie Etude
This kind of fretboard is designed to help your finger curve around and grip the classical guitar strings making them much more easy to play, thus making the playing experience more comfortable. The tusq nut width and compensated saddle help the guitar achieve clear and smooth intonation no matter how you tune your guitar. If you are looking for a great sound combined with a good design, the La Patrie guitar etude should definitely be your pick. The sides are laminated in a wild cherry hue and the cedar soundboard helps you get a diverse and unique sound from your guitar no matter what kind of genre of music you play.
Taking a look at the features of the Yamaha CG122MCH
There are also styles of guitar, you can choose from having a classic acoustic or an acoustic-electric guitar (click here for the top 10). The natural matte finish helps this guitar stand out even though its natural, original design.
HEAD TO HEAD COMPARISON
La Patrie Etude
Yamaha CG122MCH
KEY FEATURES
+ solid cedar top
+ radiused fretboard
+ simple, clear design


+ great low string action
+ many choices available
+ wonderful tone


WHAT OUR TEAM THOUGHT
This La patrie guitar has been on the market for a long while and it is on the top of our list for a few reasons, one of which is the pressure tested cedar top that remains solid and in-tact even after rigorous jam sessions. It's close to impossible to find a guitar that plays this good in the same price range!
Yamaha allows their customers to choose their guitar tops and styles, this set of options allows the customers to have a control over what kind of guitar they want to have. The sound of this Yamaha is fantastic as is the tone, and the design is simple yet inviting.
Want to find out more?
You might also be interested in Music Critic's in-depth article on this topic, The Highest Rated Classical Guitars for under 500 Dollars.
Related head-to-head product reviews: