Select and Compare: Cordoba C7 CD to the Ibanez GA Series GA5TCE
Music Critic review products for everyone, from professionals to enthusiasts, and are written in plain English to make it easier to understand the options available and decide between them. Not sure which is right for you? With so many great options on the market that's hardly surprising, so read on and see if we can help you reach a decision. This article is part of a series called The Highest Rated Classical Guitars for under 500 Dollars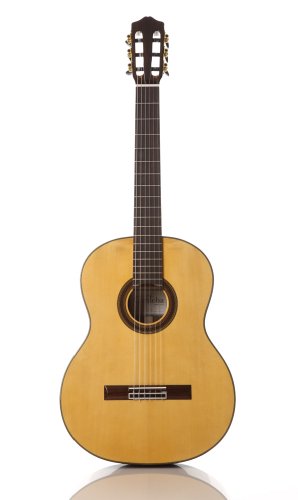 Contestant number one is the Cordoba C7 CD.

Next up is the Ibanez GA Series GA5TCE. This Ibanez guitar has been a very sought-after product when it comes to buying budget nylon string guitars. The gold color of the guitar fits great with the dark mahogany back and sides. The thin line body allows you to easily access the higher frets without any trouble thanks to the cutaway located on the left hand-side of the guitar. The neck itself is made of mahogany and goes up to the 14th fret.
Examining the Ibanez GA Series GA5TCE
The narrow neck is very comfortable and doesn't feel bulky when embraced like steel string acoustic guitars' necks tend to do. This, of course, means that this guitar is equipped with nylon strings, and thanks to it being both classical acoustic guitars as well as an electric guitar you are provided with an Ibanez piezo pickup system for the acoustic, a 3-band EQ that allows you to amplify your nylon strings with guitar amps to help them perform their best.
HEAD TO HEAD COMPARISON
Cordoba C7 CD
Ibanez GA Series GA5TCE
KEY FEATURES
+ solid spruce top
+ comes with gig bag
+ great projection


+ narrow neck
+ includes Ibanez piezo pickup system
+ equipped with nylon strings


WHAT OUR TEAM THOUGHT
If you are looking for a guitar that has a great price combined with great functionality and sound, Cordoba's guitar is a fantastic choice. When buying this product you can rest assured that you will be kept in good company with the clear volume and sound that this guitar offers you. We think the Indian rosewood is the cherry on top! A good alternative is the Cordoba C5 acoustic nylon string classical guitar or Cordoba fusion acoustic guitars - click here for the top acoustics of 2020.
Ibanez is a very popular brand in the guitar world, and it's easy to see why. They make fantastic electric guitars, and this acoustic electric guitar (click for under 1000) by Ibanez is no exception. If you are looking for a budget guitar that has a wonderful tone regardless, then this guitar is the choice to go for!
Would you like to know more?
You might also be interested in Music Critic's in-depth article on this topic, The Highest Rated Classical Guitars for under 500 Dollars.
Related product comparisons: