1 vs 1 Comparison
Today's product comparison has Music Critic comparing the Aroma ABR-1 Booster to the BBE Boosta Grande Clean Boost. Not sure which is right for you? Read on and find the perfect item for your needs. If you would like to see more product comparisons from the same category, click here.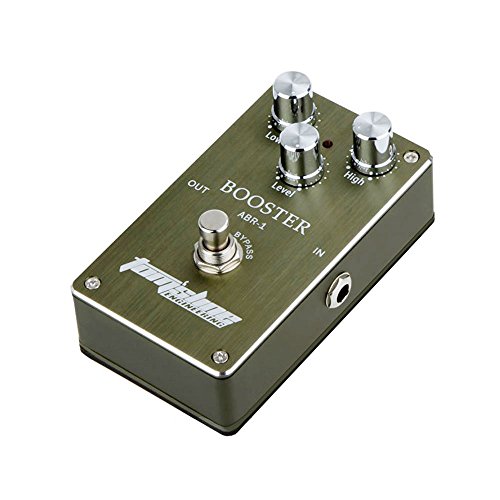 The first product we will be looking at is the Aroma ABR-1 Booster. This budget choice would probably not be on most guitarists' lists, mainly because Aroma isn't well known as a manufacturer. That however, doesn't mean it isn't worth you taking a look. Despite the price, you're getting a true bypass boost pedal with level adjustment up to +14 dB, and knobs for low and high ranges too. Those are features you'd expect from a much pricier pedal.

The second product we are looking at in this head-to-head review is the BBE Boosta Grande Clean Boost. Right around the mid-range in terms of pricing, the BBE Boosta Grande sets out from the very beginning to be the most transparent clean boost pedal on the market. It's packed with seriously high-quality hardware to achieve this, and offers boost of up to +20 dB.
More about the Aroma ABR-1 Booster
If we're being honest, the ABR-1 does alter the tone slightly, even with no low or high adjustment, so if you're dead set on a unit that does nothing more than give you boost without any coloration, then this might not be the one for you. That said, there are very few pedals on the market that give you this much for so little.
But what about the BBE Boosta Grande Clean Boost
Does it succeed? We think so. The Boosta Grande really doesn't touch your core tone at all, making it absolutely perfect for those who are nervous about purchasing a boost unit that might mess up what they've achieved already. Our only criticism would be that the bypass switch noise when turning boost off and on isn't the quietest - but that could well change once things have worn in a little.
HEAD TO HEAD COMPARISON

Aroma ABR-1 Booster

BBE Boosta Grande Clean Boost

KEY FEATURES

+ Incredible value
+ Gives more than just clean boost
+ True bypass



+ Superb transparency
+ Comes with power supply
+ High-quality circuitry



WHAT OUR TEAM THOUGHT

A left-field option from Chinese manufacturer Aroma, the ABR-1 has a couple of drawbacks as a pure clean boost pedal, but ultimately is such good value that it's worth giving the unit a try - the quality and range of features will surprise you. Possibly the best budget option on the market.

The Boosta Grande gets into this list for its excellent hardware and engineering, which means that it's arguably the most transparent clean pedal we've reviewed. It's good value for this reason, especially with the supplied power unit. If you want something mid-range that genuinely gives you clean boost, then it's hard to argue against this option.
Read our full review
You may also be interested in our article Top 10 Rated Clean Boost Pedals for Guitar Solos in 2022.
Related product comparisons: