Battle Royale: Comparing the TC Electronic Spark to the Electro-Harmonix LPB-1
We will be looking at two popular products, the TC Electronic Spark and the Electro-Harmonix LPB-1. Find out what separates these two items with the full comparison review below. If you would like to see more product comparisons from the same category, click here.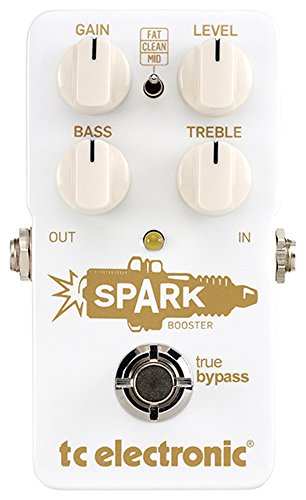 The first product we will be looking at is the TC Electronic Spark.

And now we will have a look at our second product, the Electro-Harmonix LPB-1. Branded a 'linear boost pedal', the Electro-Harmonix LPB-1 is a relatively low-budget option that is in fact a reissue of the original effects board released way back in 1968. Don't let the low price fool you however - this is a great choice, and is no poorly made imitation of the original. This thing is made in New York, which is a real surprise, as US-made hardware usually carries a much heftier price tag.
A good look at the Electro-Harmonix LPB-1
You get just the one adjustment knob, as with all of the straightforward boosters, which packs a serious amount of gain. We'd really recommend this if you're working with pickups that just don't quite have the output you want. The transparency on this unit isn't quite as good as some other options, with a small change in the mid-range but it's good enough.
HEAD TO HEAD COMPARISON

TC Electronic Spark

Electro-Harmonix LPB-1

KEY FEATURES

+ Adjustment up to +26 dB of boost
+ 2-band EQ adjustment
+ Mini-toggle for added versatility



+ Awesome looks
+ Old-school approach
+Intricately well made



WHAT OUR TEAM THOUGHT

A very high quality pedal, with plenty of options, the TC Electronic Spark is ideal for guitarists that are looking for a feature-packed option that can do more than boost. It's great for really bringing out solos and choruses when used only for clean gain, but tone shaping options mean that it's very flexible indeed. Excellent choice for most players.

The Electro-Harmonix LPB-1 is a very good value product that looks the part and is superbly made. It might not be perfect for those who are extremely particular about their tonal purity, and want literally nothing but boos, but just about anyone else would really benefit from having this die-cast little beast in their arsenal.
Read the complete review
Check out our article Top 10 Rated Clean Boost Pedals for Guitar Solos in 2023 for more info.
Similar Product reviews: