1 vs 1 Comparison
Today's product comparison has Music Critic comparing the SoundPal SonoBass to the TaoTronics Bluetooth Headphones. Not sure which is right for you? Read on and find the perfect item for your needs. This article is part of a series called Best Bluetooth Headphones Under $100 in 2023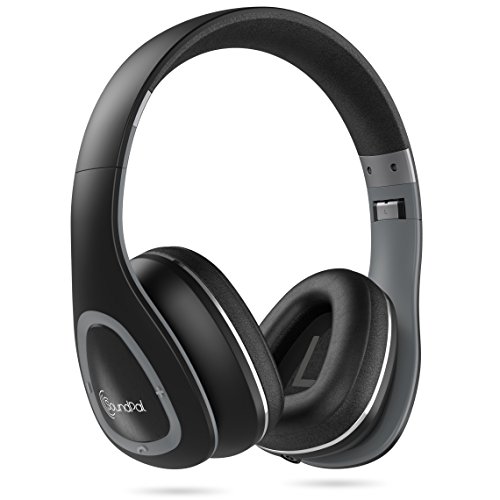 Everyone has different preferences, and we hope our frank reviews will make your decision easier. First, we will take a look at the SoundPal SonoBass. If you are a bass freak you could not find any better Bluetooth headphones than these at this price point. These headphones come in with a fairly large drivers' size giving you the expressive bass that you always wanted.

And now we will have a look at our second product, the TaoTronics Bluetooth Headphones. There can be nothing better than getting a good sound quality from the pair of your portable Bluetooth headphones. These headphones are capable of giving you just that. When speaking of the sound quality that it has on offer it is the CD-like sound that you get from it and that is because of the Apt-X support for music that it comes with.
Examining the SoundPal SonoBass
As these headphones are Bluetooth over the ear headphones for under $100 it means that now you can enjoy great sounds even on-the-go. They have the capability of connecting to any device because of the latest Bluetooth version they come equipped with.  The comfort level that you will experience with these headphones is also right up to the standards.
But what about the TaoTronics Bluetooth Headphones
On the other hand, it has great noise cancellation ability and that is because it has CVC noise cancellation techno which makes it perfect for phone calls. These headphones come in with a built-in magnet so you can hang them around your neck while not in use.
HEAD TO HEAD COMPARISON

SoundPal SonoBass

TaoTronics Bluetooth Headphones

KEY FEATURES

+ Comfortable
+ Highly portable due to the foldable headband
+ Easy storage
+ Battery life of 20 hours



+ Specially designed to fit any sporting application, these headphones are pretty snug and secure at the same time.
+ On a complete charge, they give you a battery time of 5 hours so you can enjoy continuous music without any interruptions.
+ The microphone sound of these headphones is quite clear and that is due to the CVC noise isolation technology that these headphones have.



WHAT OUR TEAM THOUGHT

 The SoundPal SonoBass Wireless Over-Ear Headphones are the perfect Bluetooth headphones for you if you are on a budget.

 You will not be able to find a better pair of headphones than the TaoTronics Bluetooth Headphones as far as any sporting application is concerned.
Read the complete review
You might also be interested in Music Critic's in-depth article on this topic, Best Bluetooth Headphones Under $100 in 2023.
Related product comparisons: