How do they stack up? The SENSO Bluetooth vs the Letsfit IPX7
Music Critic review products for everyone, from professionals to enthusiasts, and are written in plain English to make it easier to understand the options available and decide between them. There is a lot more to this sort of decision than price, so we see if we can help you decide which is best for your needs. This product comparison article is just one in a series titled 10 Best Bluetooth Headphones for Running in 2019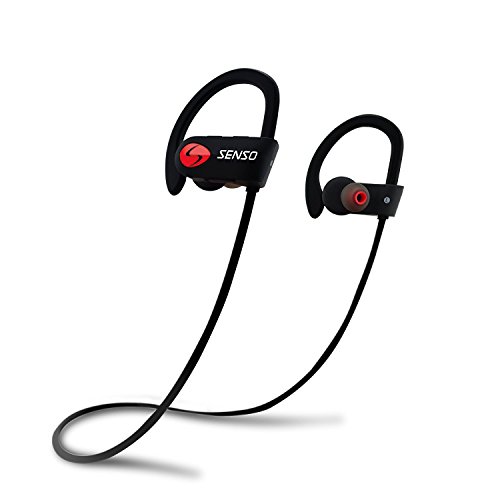 First, let's have a look at the SENSO Bluetooth. Style, comfort and durability are three words that perfectly describe these Bluetooth running headphones, and they are a great option for anyone who is searching for the best sport wireless headphones out there.

The challenger is the Letsfit IPX7. Are you ready for a long-lasting music experience, with these wireless running headphones that allows you to listen to music for up to 8 hours, take calls without having street noise interfere with your conversation and where a rainy day is not an issue since they are sweat- and waterproof? If the answer is yes – you definitely want to have a look at this product.
Reasons to buy the SENSO Bluetooth
The Bluetooth 4.1 CSR technology sets the bar high in terms of sound quality, and the flexible ear hooks keep these running headphones in place even during intense workout sessions.
Taking a closer look at the features of the Letsfit IPX7
Get these headphones in the color of your choice, with the ear tip size of your choice, and enjoy the comfort of the best sport Bluetooth headphones available.
HEAD TO HEAD COMPARISON
SENSO Bluetooth
Letsfit IPX7
KEY FEATURES
+ Crystal clear treble and deep bass
+ CVC 6.0 noise suppression technology
+ With gel flex silicon earbuds
+ Long-lasting rechargeable battery


+ Waterproof and Nano-coated
+ HD stereo sound
+ 3 different ear tip sizes
+ Fully charges in 2 hours


WHAT OUR TEAM THOUGHT
The best headphones for running and exercise, since they stay in place, last long without having to be recharged and they keep exterior noise out for a satisfying listening experience.
When you commit to running, you often want to be able to do it no matter the weather, and this jogging headphone device is the perfect product, considering it is waterproof and stays in place even when you sweat.
Want to find out more?
Check out Music Critic's in-depth article 10 Best Bluetooth Headphones for Running in 2019 which includes even more information.
Other product comparisons: