How do they stack up? The Phaiser BHS-530 vs the Otium Bluetooth
See how the Phaiser BHS-530 stacks up against the Otium Bluetooth in today's product comparison. Find out what separates these two items with the full comparison review below. If you enjoy this article, you can also check out the full version here.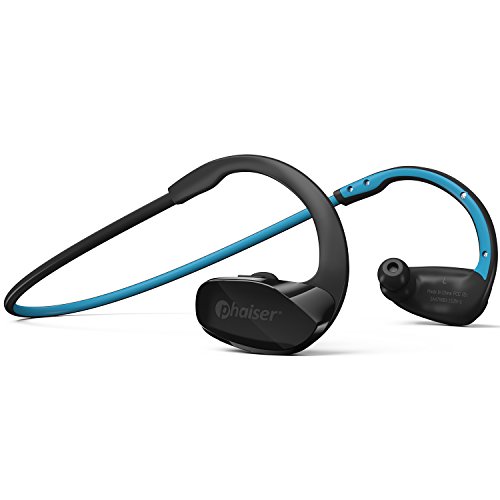 The first product we will be looking at is the Phaiser BHS-530. You can't be on the hunt for the best running headphones without having a look at these affordable sport headphones! The HD sound has a powerful base, Bluetooth 4.1, and tips made with revolutionary Comply T-400 memory foam that adapts to your ear.

The second product we will be examining in this comparison is the Otium Bluetooth.
Taking a look at the features of the Phaiser BHS-530
The fit is so comfortable and customized that it shuts out most other noise. You'll have no more distractions from your sound, whether you're listening to music or any other audio. The waterproof material of these best working out headphones makes it safe to go for a run in the rain. You could even accidentally drop the running earphones down the toilet and the audio would still work. They are also sweatproof, and the company is so sure of this that their products come with a lifetime promise of replacement headphones if the sound is ever damaged by sweat.
HEAD TO HEAD COMPARISON

Phaiser BHS-530

Otium Bluetooth

KEY FEATURES


+ 10mm speakers for HD sound and audio
+ Build-in microphone for calls
+ Flexible behind-the-head memory wire
+ Lifetime sweatproof warranty




+ Sporty and functional design
+ 8 hours of battery life
+ Sweatproof and water-resistant
+ Stereo sound and deep bass



WHAT OUR TEAM THOUGHT

These are possibly the best Bluetooth sport headphones as they're lightweight, they stay in place while you're moving and they shape themselves to the inside of your ear for a secure fit!

Finding the best wireless earbuds for running can feel tricky at first, as there is a large selection available online, but you can't go wrong with a pair of these lightweight and sound superior wireless sport earbuds.
The Bottom Line
Check out Music Critic's in-depth reviews which includes these two plus other potential contenders.
Related head-to-head product reviews: