1 vs 1 Comparison
Today's product comparison has Music Critic comparing the K&K Pure Mini to the Fishman Rare Earth Humbucking. You might think it all comes down to the price, but frankly there is a lot more to it. If you find this article interesting, you might also want to read The 10 Best Acoustic Guitar Pickups in 2021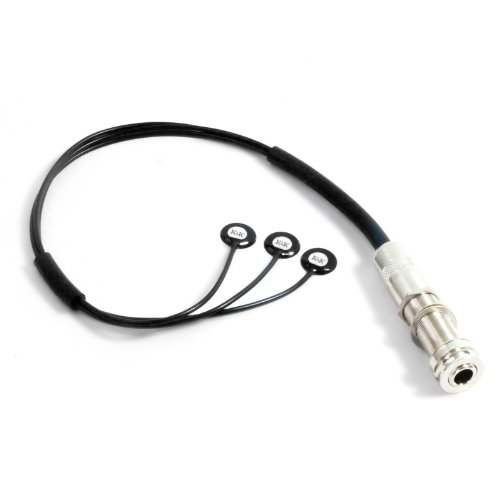 First, let's have a look at the K&K Pure Mini. The K&K Pure Mini provides a full rich sound, the 3 transducers each pickup a pair of relative strings, whilst detecting a larger portion of the space around them. They are placed further away than the surface transducers typically found in an under-saddle pickup for amplifying your acoustic guitar so they also transmit cross-soundboard, this gives a softer representation of the natural tone as some pickup systems can seem tinny or percussive. Using the soundboard reverberations as well as sharing the strings between transducers allows for a better balanced overall sound quality it is not as thin as some under-saddles can feel.

The challenger is the Fishman Rare Earth Humbucking. This magnetic, sound-hole pickup from Fishman has been ameliorated and re-voiced to a provide smoother treble response than previous popular models. It Simple design dictates it's straightforward use. Pop it in and plug in for hassle free warm, Humbucking sound. It offers active electronics for cleaner sound with less degradation than a passive alternative and great string to string balance. Featuring cutting-edge magnets formed from a rare earth element; neodymium which is obviously what inspired the product name! It is of solid construction with top quality discreet, low-noise, low current circuitry which is what maintains an accurate and more pure signal. This active acoustic guitar pickup is a stacked coil pickup for a quieter reproduction of natural acoustic tones.
Taking a closer look at the features of the K&K Pure Mini
The K&K Pure Mini better represents the original whole tones of your acoustic guitar. Discreetly mount inside the guitar under bridge plate. A lot of them come with useful plastic tool thoughtfully designed specifically to help with correct placement which is really helpful can be awkward to access the inside of your guitar.
HEAD TO HEAD COMPARISON
K&K Pure Mini
Fishman Rare Earth Humbucking
KEY FEATURES
+ Passive Pickup.
+ No battery, no on-board electronics.
+ Minimal drilling installation (end pin hole size).
+ Can be used with steel or nylon strings.


+ Fits sound-holes as small as 3 5/8" (92 mm) diameter.
+ Active 1 x 3V lithium / 2 x 1.5V Silver oxide.
+ Pre-wired output jack can also be end-pin mounted to keep it conveniently placed and hidden.
+ Natural tone


WHAT OUR TEAM THOUGHT
This The K&K Pure Mini soundboard transducer is a brilliant bare bones, lightweight system, It provides a high sound quality with minimal feedback. Installation doesn't require any drastic changes and if handled professionally shouldn't affect resale value in the future. PLUS it can be used with steel or nylon strings.
This Fishman active acoustic guitar pickup has been refined with exceptional accuracy fits smaller sound-holes (which can be a problem especially if you are looking to mount it on something other than a guitar) and Fishman are brand which has helped define acoustic pickup technology.
The Bottom Line
Also see Music Critic's article The 10 Best Acoustic Guitar Pickups in 2021 which includes even more information.
Similar head-to-head comparisons: