1 on 1 Testing
In today's comparison we invite you to see how the Luvay Transducer stacks up against the L.R. Baggs ANTHEM. Find out what separates these two items with the full comparison review below. If you find this article interesting, you might also want to read The 10 Best Acoustic Guitar Pickups in 2021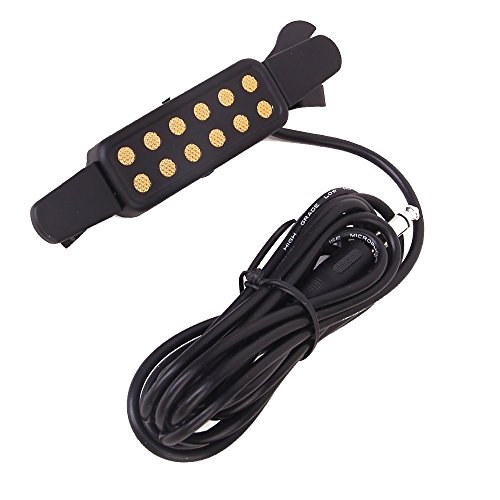 First, let's have a look at the Luvay Transducer. The Luvay Transducer pickup is shining example of an inexpensive modification free way to transform your acoustic into a powerful acoustic electric guitar. It has had a few disappointing reviews but for 12 bucks we feel perhaps the expectations were probably set too high. The Luvay Transducer pickup provides a pretty decent sound and does exactly what it says on the tin.

The second product we are looking at in this head-to-head review is the L.R. Baggs ANTHEM. This is a wonderful blended pickup option and part of an award winning series. Blended mic and pickup models are really only just coming into their own and this one has undergone plenty of tweaking. L.R Baggs have been at the forefront of innovation for amplification for years with their famous Baggs Dual Source system being a popular choice. The Anthem utilizes a rare element traditional Piezo pickup for amplifying your acoustic guitar. The Piezo works in conjunction with a high definition condenser microphone, specifically engineered to a high standard. Developed with high tech noise canceling abilities that help combat the boxy characteristic that we sometimes hear from internal mics.
Taking a closer look at the features of the Luvay Transducer
Some people have experienced feedback issues this seems to be from hand contact so if you like to spank your guitars' strings it might not be the one for you. Minor faults aside it is suitable for home use , practice and recording down ideas before they disappear. The Luvay Transducer pickup is contender for our top ten, not for its perfection but for its contribution to providing acoustic amplification to those of us not lucky enough to be lavish with our music accessories.
Reasons to buy the L.R. Baggs ANTHEM
It really is the epitome of pure quality feedback resistant sound. You can mix the mic and pick up controls an fine tune the right blend for you. Where this system differs from other blended systems is it relies mainly on the microphone as the primary using the Element to tackle the lower frequencies. This gives a great tone of course most Piezo pickups are known for being very good with the treble end and are even bashed on occasion for exactly that. So this crossover really helps address the issue.
HEAD TO HEAD COMPARISON
Luvay Transducer
L.R. Baggs ANTHEM
KEY FEATURES
+ The 3 meter cable allows for a good range of movement.
+ Heavy durable build.
+ Good presence.


+ Mix, phase and volume controls that sit unobtrusively inside the sound hole.
+ Genuine Piezo.
+ Active electronics.


WHAT OUR TEAM THOUGHT
The Luvay Transducer pickup is a good no-frills option which installs effortlessly in seconds at an unbeatable value for money.
Like The SL version reviewed above if offers superior level sound, this Piezo active acoustic guitar pickup will likely be a little more synthetic sounding, but it does have added benefit of integrated feedback solutions.
The Bottom Line
Check out our article The 10 Best Acoustic Guitar Pickups in 2021 for more info.
Related head-to-head product reviews: