1 on 1 Testing
In today's comparison we invite you to see how the Luvay Transducer stacks up against the L.R. Baggs ANTHEM. Find out what separates these two items with the full comparison review below. If you find this article interesting, you might also want to read The 10 Best Acoustic Guitar Pickups in 2022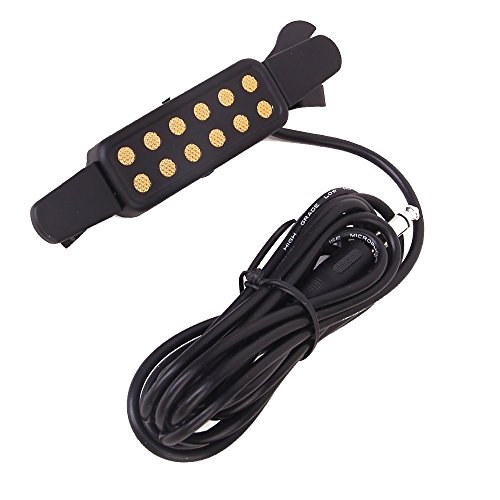 First, let's have a look at the Luvay Transducer. The Luvay Transducer pickup is a great example of an inexpensive, modification-free way to transform your acoustic into a powerful acoustic-electric guitar. For just twelve bucks, it's also one of the most inexpensive ways of amplifying your acoustic. It provides solid sound quality that is more than good enough for the low price.

The second product we are looking at in this head-to-head review is the L.R. Baggs ANTHEM. Next up, we have another award-winning pickup from L.R. Baggs. It features a blended microphone and pickup system that is highly effective. That means that it contains a high-definition condenser microphone, as well as the piezo pickup. These two components combine to create a balanced, full-bodied sound that is good enough for a professional, live performance. This product also features noise-canceling technology so that you don't have a boxy, unpleasant sound, which can often happen when an internal microphone is used for amplification.
Taking a closer look at the features of the Luvay Transducer
One minor drawback is that some users have experienced feedback issues. Although this isn't a common problem, it has occurred, and it means that this one should be avoided for important gigs.
Reasons to buy the L.R. Baggs ANTHEM
There's also no need to worry about unwanted feedback. It's not an issue with this pickup. It's easy to adjust the various components to create a tone that suits you thanks to the included controls.
HEAD TO HEAD COMPARISON

Luvay Transducer

L.R. Baggs ANTHEM

KEY FEATURES

+ The 3m cable allows for a good range of movement.
+ Heavy durable build.
+ Good presence.



+ Mix, phase, and volume controls that sit unobtrusively inside the soundhole.
+ Mic and piezo combo.
+ Active electronics.



WHAT OUR TEAM THOUGHT

The Luvay Transducer pickup is a good no-frills option that can be effortlessly installed in seconds. Overall, it delivers unbeatable value for money, in our opinion.

Like The SL version reviewed above, this product offers superior sound quality. There's no chance of feedback, which also makes it a good choice for live gigs. We were impressed by its overall quality.
The Bottom Line
Check out our article The 10 Best Acoustic Guitar Pickups in 2022 for more info.
Related head-to-head product reviews: