Side-by-side comparison of the Jameson Blue Thinline and the Ibanez AEG10NII
Music Critic review products for professionals and enthusiasts, and are designed to help making a choice easier. Our tests and reviews can help point you towards models and brands that suit your needs. Click here if you would like to see more product reviews in the same category.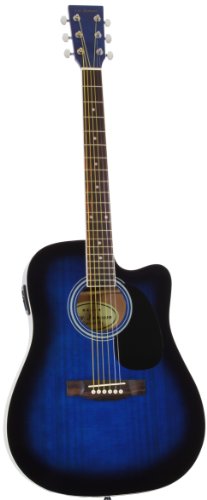 The first product we will be looking at is the Jameson Blue Thinline. This Blue Thinline acoustic electric guitar from Jameson is one of the best products on the market if you are looking for a low-budget guitar. The blue design that covers this guitar is original and fresh and fades into the black edges almost seamlessly. This guitar is on the list of Amazon's Choices too, and it's easy to see why, there are over 500 reviews most of which are 5-starred. The guitar sounds as good plugged in as it does raw, and that's what marks a good electric acoustic guitar.

The second product we will be examining in this comparison is the Ibanez AEG10NII. This Ibanez electric acoustic guitar comes in two different colors: the simple all black finish and a rich, playful orange. The well-made mahogany necks helps ensure that you can quickly move your finger up and down the fretboard without having the feeling that the neck is stiff, fragile or easily breakable. The heavy-duty wood used to make this guitar make it one of Ibanez's best creation yet.
A good look at the Jameson Blue Thinline
You will get a free guitar case which is perfect for traveling and keeping the guitar safe in your home and you also get free guitar picks! Many beginners tend to buy guitars and forget that they also need a pick if they don't want to only play fingerstyle. This guitar has been a top-seller for years and is a customer favorite not only because of the attractive price but because of the features included with this product. The thinline body makes this guitar perfect for guitar players of all ages, be it for adults, pros or children. The sound is deep and rich and the quality of the workmanship is one of a king.
A good look at the Ibanez AEG10NII
The truss rod is easily adjustable and the action isn't high at all; many people readily praise this guitar for being fantastic for fingerpicking. The sound is great and clear and sounds just as good regardless if you use an amp or not. The tone is great and the built-in tuner helps the guitarist keep track of their strings and their tuning. If you notice something is off, you can quickly adjust the strings thanks to the built-in tuner and you're good to go! If you like having extra security, you will be glad to know that this guitar also has buttons for a guitar strap; if you like playing when standing up or when you're on tour, this is the perfect solution to help you feel secure with your guitar.
HEAD TO HEAD COMPARISON

Jameson Blue Thinline

Ibanez AEG10NII

KEY FEATURES

+ Comes with guitar case
+ Includes free picks
+ Original blue finish



+ Sturdy mahogany fretboard and mahogany neck
+ Guitar strap buttons
+ Wonderful electronic pickup systems



WHAT OUR TEAM THOUGHT

This Jameson guitar is ideal for anyone that is looking for a solid product that can perform at high quality. If you need an acoustic electric guitar to start learning on or if you need a quality replacement for your old guitar, this is definitely one of the best products you can go for! It sounds just as good live as it does within a studio and makes for a perfect tour companion.

Ibanez has once again supplied the market with a fantastic electric guitar that can do more than you could ever imagine. The semi acoustic pickup systems are great and the sounds and tones are very well harmonized no matter what type of music you like to play. With or without an amp, this guitar is certainly something to look out for if you want to hone your skills!
Read the complete review
Also see Music Critic's article Top 10 Best Acoustic Electric Guitars Under $300 which includes even more information.
Similar head-to-head comparisons: