1-v-1 Product Comparison - the Epiphone DR-500MCE vs the Yamaha LS16M (L-Series)
In today's comparison we invite you to see how the Epiphone DR-500MCE stacks up against the Yamaha LS16M (L-Series). The Music Critic reviews can help point you towards models and brands that suit your needs. Click here if you would like to see more product reviews in the same category.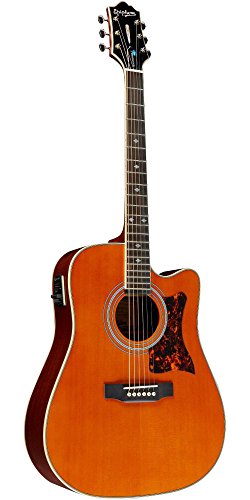 Everyone has different preferences and priorities, so to make choosing easier we have attempted to give a frank review of the products. Let's start with the Epiphone DR-500MCE.

Now we will have look at an alternative, the Yamaha LS16M (L-Series). Another one of Yamaha's products has made it onto our list, simply because the variety and quality of sound is fantastic here. Upon purchase you will be able to choose from 4 completely different designs which one you like most, and the designs are: black, natural, brown sunburst and dark tinted. This guitar is easy to play and has some fantastic features for its price range; it has been made using a 'passive' electronics system that gives you the most authentic, original acoustic sound that you could ask for. The gain here is also very powerful and the guitar itself comes packed in a hard-shell traveling case, where it is protected by a heavy-duty plastic liner that ensures your guitar was kept safe and sound during its journey home.
But what about the Yamaha LS16M (L-Series)
Many customers praise this guitar for being able to hold its tune for more than a week, which is incredible for any guitar! It's easy to see that the craftsmanship here is top tier and has been handmade, since even the bindings are made from wood, and the richness of the sound available within this guitar could not be achieved without a handcrafted help! If you are looking for a solid guitar that will keep you company during your practice sessions and tours, this Yamaha will definitely do its job well with the fantastic tones and harmonies that it provides even when plugged in to an amp!
HEAD TO HEAD COMPARISON

Epiphone DR-500MCE

Yamaha LS16M (L-Series)

KEY FEATURES

+ Built-in tuner
+ great, solid build
+ attractive design choices



+ Quality workmanship
+ great acoustic sound
+ comes with hard-shell case



WHAT OUR TEAM THOUGHT

Epiphone is a great brand that offers a lot of pleasing features, like the deep, full sound, the design choices and overall great craftsmanship. The mahogany wood that this guitar is made out of is sturdy and durable and will be able to endure all of the daily wear and tear you will be putting it through!

This Yamaha acoustic electric guitar is the ideal choice for anyone that wants to invest in a durable and well-made product that will help improve their playing. This guitar comes in a hard-shell case that will certainly make for a great travel companion whenever you go on tour or to jam sessions! Check out the Yamaha a3r as an alternative.
The Bottom Line
Check out Music Critic's in-depth article The Top Acoustic Electric Guitars Below $1000 in 2022 which includes even more information.
Related head-to-head product reviews: