Select and Compare: Taylor GS Mini-e Koa to the Breedlove SOLO Concert
In this comparison we put the Taylor GS Mini-e Koa and Breedlove SOLO Concert head to head in a battle to find out which wins the specifications war. Not sure which is right for you? With so many great options on the market that's hardly surprising, so read on and see if we can help you reach a decision. If you enjoy this article, you can also check out the full version here.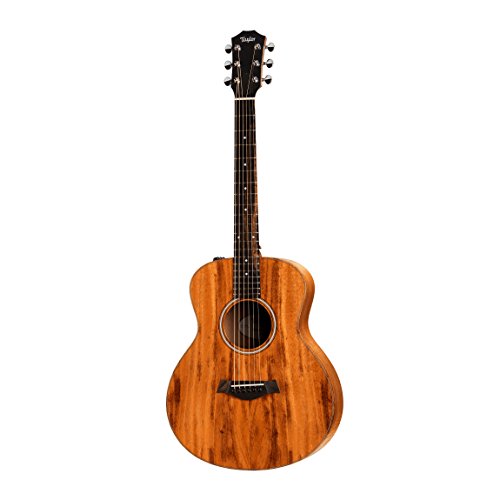 The first product we will be looking at is the Taylor GS Mini-e Koa. First on the list we have the acoustic electric guitar from Taylor; right from the star we can already see the smooth, polished wooden surface that can appeal to a lot of potential buyers. If you are into Hawaiian culture and would like a guitar that is influenced by it, this koa made acoustic is the perfect choice. It has 20 frets, an ebony fretboard, bottom and sides made of koa and the guitar sounds extremely clear and crisp. If you register your guitar by Taylor you will also be able to get a 12-year warranty, should some accidents occur. This guitar also has dot fretboard inlays, which prove to be useful for a lot of people.

Next let's have a look at the Breedlove SOLO Concert. Breedlove's acoustic electric guitar is perfect for anyone that is looking for a simple, beautiful guitar that does its job flawlessly. This particular product comes with a deluxe gig bag, which is ideal for anyone that wants to have an all-inclusive bundle. Every guitarist needs a gig bag, whether it's for storing your guitar at home or for taking it outside, it's essential, and Breedlove is fully aware of that. This guitar also has an onboard tuner that turns green when the string is in tune, which makes for a very useful feature if you don't want to be fussing around with a separate tuner trying to get the string to stay in tune!
Taking a look at the features of the Taylor GS Mini-e Koa
Many customers praise this guitar for feeling both small and big, and with the Hawaiian Koa solid top, it's a very attractive instrument. If you are looking for a small body guitar to take along with you on travels, this GS Mini-e Koa acoustic the perfect choice. You should have no trouble using for songwriting thanks to the rich tones that it produces and the high-quality make ensures that you will be getting only warm and engaging guitar sounds. The shell of the guitar is also very sturdy and should endure any bumps or hits without showing any wear and tear for a long time after purchase.
A closer look at the Breedlove SOLO Concert
Many customers testify to having been using this guitar for up to ten years without it having lost the original tone, which is incredible for any guitar. If you are looking for a warm, sweet and full sound, which doesn't get too bright and cheery even with Major D songs, this is definitely a fantastic choice. This guitar can definitely endure a lot of wear and tear and is perfect for those guitar players that will be touring and using this product anywhere and everywhere. You can easily amplify it and the guitar sounds just as good unplugged as it does when it's plugged in!
HEAD TO HEAD COMPARISON
Taylor GS Mini-e Koa
Breedlove SOLO Concert
KEY FEATURES
+ compact, ideal for travel
+ warm, rich tones
+ comes with a soft case


WHAT OUR TEAM THOUGHT
Taylor definitely knows how to take care of their customers; not only do they first and foremost provide you with a high-quality product for a great price, but they also offer to give you a 12 year warranty and a soft travel case if you register your guitar in the system! It's a fantastic deal and this original acoustic electric guitar will surely fit anyone that is looking for a new companion.
Breedlove's acoustic electric guitar is perfect for anyone that is looking for a reliable travel companion. If you are known for playing gigs outside or for travelling on tours, this is the ideal product that will be able to endure a lot of heavy-duty use while still maintaining its original sound!
The Bottom Line
Also see Music Critic's article The Top Acoustic Electric Guitars Below $1000 in 2019 which includes even more information.
Related product comparisons: