1-v-1 Product Comparison - the Seagull Artist Mosaic vs the Martin Road Series DRS1
In this brief comparison, we are going to be putting two products head to head. There is a lot more to this sort of decision than price, so we see if we can help you decide which is best for your needs. This product comparison article is just one in a series titled The Top Acoustic Electric Guitars Below $1000 in 2023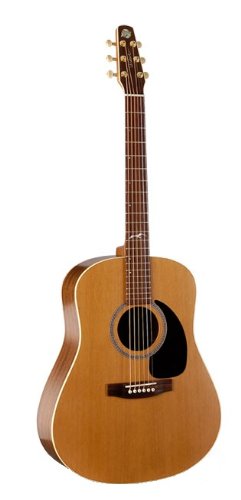 Contestant number one is the Seagull Artist Mosaic.

The second product we will be examining in this comparison is the Martin Road Series DRS1. This martin acoustic electric guitar has one of the most original body colors on this list; it's a deep, rich red that crosses with a chocolate brown. It looks very warm and inviting and is definitely one of a kind. Upon purchase you will also get a hard-shell travel case to put your guitar into, which is definitely a vital addition if you know you will be traveling or if you simply need a safe space to store your guitar.
Reasons to buy the Martin Road Series DRS1
This Martin guitar was initially made in 2001 and then reintroduced, it was meant to be a quality guitar designed for guitarists that are always on tour and needed to buy a guitar on a tight budget. The important feature Martin focused on when designing this guitar was to make it durable without losing the quality of the sound. The neck is built of multilaminate strata bond that makes it extremely rigid and durable. If you don't like narrow necks that tend to wobble and feel fragile, Martin will provide you with the best alternative. Many people say that at first they didn't like the sound the martin guitar made, but gradually ended up falling completely in love with the originality of the tones this guitar makes and is now one of the top favorites!
HEAD TO HEAD COMPARISON

Seagull Artist Mosaic

Martin Road Series DRS1

KEY FEATURES

+ Comes with sturdy case
+ simple, classic design
+ solid craftsmanship
+ Great beginner guitar & also for intermediate players to enjoy



+ Comes with hard-case
+ very original sound
+ rigid and durable body and neck



WHAT OUR TEAM THOUGHT

Seagull is known for making guitars that usually costs thrice as much as their products and sound the same; with Seagull's acoustic electric guitar, you get more for less and many people still don't understand how such a fantastic guitar can be sold under $1000! If you are looking for a rich sound, a travel case and a good guitar, this bundle is the best choice. Check out the Seagull S6 original as an alternative.

This martin guitar is one of the most original products out on the music market right now when it comes to sound. If you are looking for a good, durable and sturdy guitar that will give a very original sound to your style of playing, this is definitely the best choice to go for. Especially if you are a traveler and like to be on tour, then this little martin acoustic electric has been tailor-made for you and your travels with its stunning endurance capabilities! Check out the Martin DRS2 as an alternative.
Discover more
You may also be interested in our article The Top Acoustic Electric Guitars Below $1000 in 2023.
Similar Product reviews: