How do they stack up? The ChromaCast CC-MSTAND Folding Music Stand vs the Hamilton Foldable Note Stand Chrome
Today Music Critic will be comparing the ChromaCast CC-MSTAND Folding Music Stand to the Hamilton Foldable Note Stand Chrome. Not sure which is right for you? Read on and find the perfect item for your needs. This article is part of a series called 11 Best Sheet Music Stands of 2022 , Folding & Static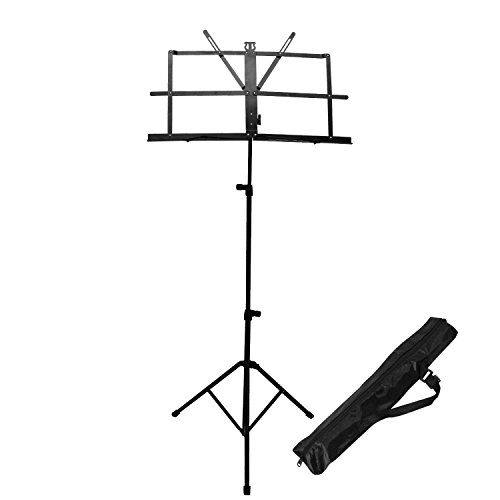 Let's get started by taking a close look at the ChromaCast CC-MSTAND Folding Music Stand. Looking for a music stand with portability and easy storage? Then ChromaCast CC-MSTAND folding stand with a carrying bag might be your top choice. This stand is suitable for both sitting and standing users as it features a two-tier vertical shaft, and a tilting bookplate, making it a comfortable choice for both types of consumers. You can also adjust the height from 28 inches to 58 inches, which means it's a great option for everyone.

Now we will have look at an alternative, the Hamilton Foldable Note Stand Chrome. The Foldable Note Stand Chrome 2 by Hamilton features a popular 2 section design, and a fixed angle desk, which can fold to 21.5 inches and extend up to 55 inches. This product is the best for lining up music sheets. It also has a 4-5 inch wire to hold the papers.
Examining the ChromaCast CC-MSTAND Folding Music Stand
This product is also easy to carry as it's lightweight (only 1.9 pounds) and foldable. People who travel a lot may want to pay attention to this stand, in particular.
Taking a closer look at the features of the Hamilton Foldable Note Stand Chrome
This stand is lightweight ( 2.4 pounds) and foldable, which makes it easier to carry than other stands. The material is chrome plated, giving it a quality feel and look. The product is measured at the dimensions of 21.5 x 2 x 2.4 inches, which doesn't take up too much room.
HEAD TO HEAD COMPARISON

ChromaCast CC-MSTAND Folding Music Stand

Hamilton Foldable Note Stand Chrome

KEY FEATURES

+ Easy Storage
+ Folding
+ Great for both Sitting and Standing Performers



+ 2 Section design
+ Fixed Angle
+ Easy to Carry



WHAT OUR TEAM THOUGHT

It is super easy to carry this stand as it comes with a bag. Users who have to travel a lot, and struggle to carry their music stand, will find that this product could be the one to facilitate them.

The fact that it's economy price quality with a chrome plated silver color, and easy to carry around, is what helps Hamilton's folding stand reach our good books.
Read our full review
Also see Music Critic's article 11 Best Sheet Music Stands of 2022 , Folding & Static which includes even more information.
See more head-to-head comparisons of products: