How do they stack up? The Musician's Gear Heavy-Duty Folding Music Stand vs the Amazon Basics Sheet Music Stand
We will be looking at two popular products, the Musician's Gear Heavy-Duty Folding Music Stand and the Amazon Basics Sheet Music Stand. Not sure which is right for you? With so many great options on the market that's hardly surprising, so read on and see if we can help you reach a decision. This product comparison article is just one in a series titled 11 Best Sheet Music Stands of 2023 , Folding & Static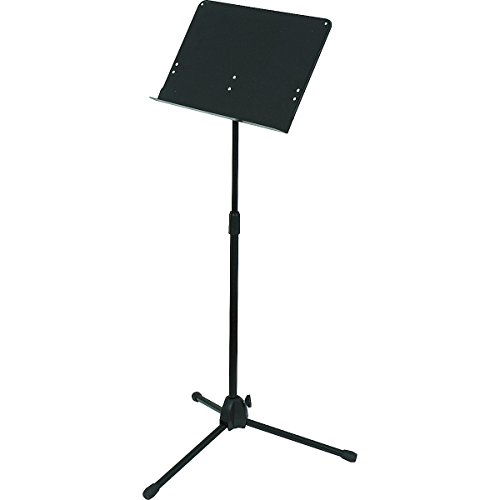 Everyone has different preferences, and we hope our frank reviews will make your decision easier. First, we will take a look at the Musician's Gear Heavy-Duty Folding Music Stand. This folding music stand by Musician's Gear is rated top when compared to others. The product is easy to fold and weighs only 6.1 pounds, which means you can carry it without any fuss. Likewise, it's stable and doesn't slide down; it is extendable to various heights so that most people can use it. The dimensions of the product are 27.1 x 11.7 x 4 inches, making it adjustable in a cramped space.

The second product we are looking at in this head-to-head review is the Amazon Basics Sheet Music Stand. This sheet music stand from Amazon Basics comes unassembled with a metal sheet holder, telescopic pole, base, fastening ring, and connector. The tripod base is steel welded, which promises excellent stability and durability. This product has no knobs for height adjustment. In replacement it has an automatic friction slide, which requires only slide up and down pressure, making it easy for you to adjust according to your needs.
Reasons to buy the Musician's Gear Heavy-Duty Folding Music Stand
The music stand face is a full 16 inches wide, big enough to open a music book. The tripod legs are also easy to open and held on with a secure clip that requires no further tightening. It's a simple and heavy-duty product, as titled by the product name, and gives you great value for your money.
But what about the Amazon Basics Sheet Music Stand
The stand face provides its consumers with easy-to-use knobs for adjusting the tilt, maintaining a comfortable viewing angle of their choice. As it's weighed at 5.9 pounds, this product also ensures sturdiness. This sheet music stand is a heavy-duty product, supporting more pieces of sheet music than other stands out there on the market.
HEAD TO HEAD COMPARISON

Musician's Gear Heavy-Duty Folding Music Stand

Amazon Basics Sheet Music Stand

KEY FEATURES

+ Easy to Fold
+ Lightweigt for Travelling
+ Extendable and Adjustable



+ Excellent Stability and Durability
+ Automatic Friction Slide
+ Easy to use Knobs for Adjusting Tilt



WHAT OUR TEAM THOUGHT

This stand is foldable and easy to carry. Moreover, the material is good and solid, which definitely gives you the professional feel.

If you are looking for a heavy-duty stand of a normal weight and gripped hand-pressure height adjustment, then this product might be your answer.
Read the complete review
Check out Music Critic's in-depth article 11 Best Sheet Music Stands of 2023 , Folding & Static which includes even more information.
Similar head-to-head comparisons: