How do they stack up? The Casio Privia PX-160 vs the FLYCHORD DP420K
We will be looking at two popular products, the Casio Privia PX-160 and the FLYCHORD DP420K. The team take this task very seriously - two products enter, but only one can leave. If you find this article interesting, you might also want to read Top 10 Best Upright Pianos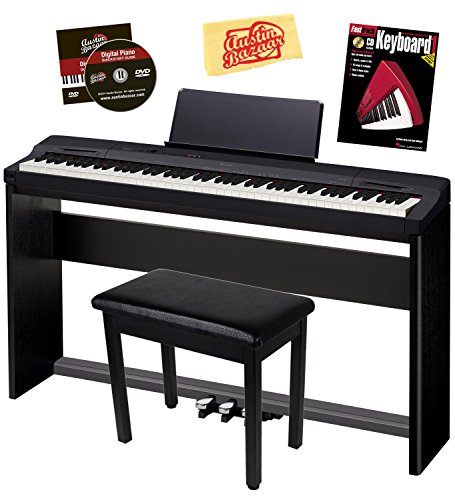 The first product we will be looking at is the Casio Privia PX-160.

Now we will have look at an alternative, the FLYCHORD DP420K. Have you ever heard of Flychord? No? We didn't think so. But you can be sure you'll hear more about them in the future! Flychord is a piano company that is very new in the piano world but already makes really nice pianos. This one is a digital piano that has everything you need, 88 graded hammer weighted action keys, it has MIDI and synthetic ivory keys that will give you a good grip when you play. It sounds really nice and has 128-note polyphony and a 1-year warranty, which is good.
A good look at the FLYCHORD DP420K
It comes with 40 different voices and 50 preset styles, that can both encourage you to practice pianos more as well as compose. Sometimes it might be boring to just play with the regular piano sound and changing to strings or something else can really make the whole piano playing experience a lot more festive, and make it feel less like a chore.
HEAD TO HEAD COMPARISON

Casio Privia PX-160

FLYCHORD DP420K

KEY FEATURES

+ Digital piano
+ 3-year manufacturer's warranty
+ 18 sounds
+ USB MIDI
+ Slim and light-weight



+ Digital
+ 88 keys
+ Graded hammer weighted keys
+ 128-note polyphony
+ MIDI
+ Synthetic ivory for a good grip
+ 40 voices
+ 50 styles
+ Great beginning piano



WHAT OUR TEAM THOUGHT

We would recommend this piano for beginners, as it's pretty basic. If you're only going to use it as a regular piano and don't require many extra features, this is a good high-quality option. Musicians who play another instrument but need to have a piano at home for accompaniment or the occasional practicing of singing or similar things might also like this piano.

This piano is great for beginners, both kids and adults. It has 40 different voices and 50 styles so that you can improvise and create fun music. Intermediate players should also check this piano option out.
Would you like to know more?
You might also be interested in Music Critic's in-depth article on this topic, Top 10 Best Upright Pianos.
Related head-to-head product reviews: