1 vs 1 Comparison
In today's comparison we invite you to see how the Yamaha Arius YDP162R stacks up against the Korg B1SP 88 Weighted Key Digital Piano. The team take this task very seriously - two products enter, but only one can leave. This product comparison article is just one in a series titled Top 10 Best Upright Pianos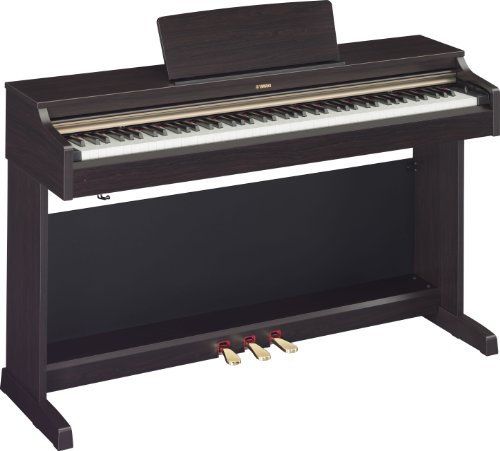 Contestant number one is the Yamaha Arius YDP162R.

The second product we will be examining in this comparison is the Korg B1SP 88 Weighted Key Digital Piano. If you just want a piano that works like a charm and doesn't have too many extras that you'll never use anyway, this might be a good option. It has 88 keys and they are weighted with hammer action, so it really feels like playing a real piano. It has a great sampled sound, so you'll actually hear a real piano that's been sampled every time you press a piano key. It can be divided into two identical sections which is great for piano lessons.
A closer look at the Korg B1SP 88 Weighted Key Digital Piano
You can use headphones with this piano and it has three pedals. It's available in black and white and comes with a 5-year warranty, which is great. Korg is a well-renowned upright piano brand that makes tons of musical instruments and equipment, so it's a brand you can trust and that deliver high-quality products.
HEAD TO HEAD COMPARISON

Yamaha Arius YDP162R

Korg B1SP 88 Weighted Key Digital Piano

KEY FEATURES

+ Digital
+ 128-note polyphony
+ Looks like an acoustic piano
+ 2-track recorder
+ Synthetic ivory keys to help with your grip



+ Hammer action weighted keys
+ Easy to use
+ Basic
+ 88 keys
+ Piano bench included
+ 5-year warranty



WHAT OUR TEAM THOUGHT

This piano is perfect for people that require practice pianos often, as it's very comfortable to play. Beginners and intermediate players should definitely consider this piano, and even professionals that perhaps mostly use an acoustic piano but want to be able to turn the volume down once in a while might like this one.

This piano is best for beginners or possibly players who only play once in a while and just want something that works ok but don't require anything extraordinary. It has hammer action weighted keys, so it's pretty nice to play. The best thing is probably that it comes with a 5-year warranty, which is unusually good.
Want to find out more?
Check out Music Critic's in-depth reviews which includes these two plus other potential contenders.
Related product comparisons: