Compare the The ONE Smart Piano to the Yamaha YDP143B Arius
In this comparison we put the The ONE Smart Piano and Yamaha YDP143B Arius head to head in a battle to find out which wins the specifications war. Find out what separates these two items with the full comparison review below. If you would like to see more product comparisons and reviews in this category, click here.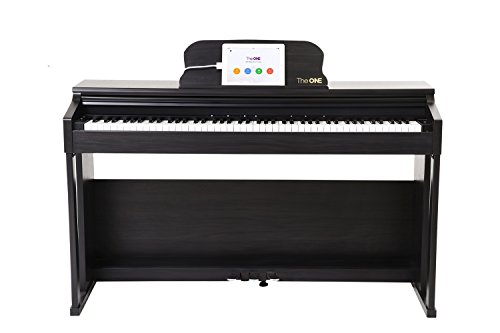 Everyone has different preferences, and we hope our frank reviews will make your decision easier. First, we will take a look at the The ONE Smart Piano. Is playing the piano a lifelong dream of yours that just feels too far away? Perhaps you wish that you would have taken lessons when you were younger and feel like it's too late to start taking lessons as an adult. The One might be the one for you! It's a smart piano that teaches you how to play! You connect it via USB to your tablet or smartphone and get access to an app that has sheet music for over 4000 different songs!

The second product we are looking at in this head-to-head review is the Yamaha YDP143B Arius. If you want to find a digital piano with great polyphony you should check this one out! It has 192-note polyphony, which means that you can play even the most advanced piano music without dropping any notes! It has graded hammer action and feels really nice to play, and the tone is full and nice, it really sounds like a real piano!
Let's take a closer look at the The ONE Smart Piano
But how does that help you if you don't play the piano or read music yet? The piano will help you! There are different learning modes and games in the app so that you can learn new pieces in your own pace, and there are blue led lights that show you which piano key to play next. There's also over 100 videos and tutorials so that you can get that lesson experience for much less money!
Examining the Yamaha YDP143B Arius
One of the coolest thing about this piano is that you can connect it to an app that lets you get access to your favorite features with the press of a button. One included feature is that it's pre-loaded with classic piano songs that you can learn to play.
HEAD TO HEAD COMPARISON

The ONE Smart Piano

Yamaha YDP143B Arius

KEY FEATURES

+ Over 4000 songs including sheet music
+ Over 100 lessons and tutorials
+ Over 128 voices
+ Perfect for beginners
+ Available in black or white



+ Good-looking
+ Digital
+ Several different voices
+ Black walnut or rosewood
+ USB
+ Control it with an app that stores your favorite settings



WHAT OUR TEAM THOUGHT

This piano is obviously amazing for beginners, since they can actually learn to play with it. We also imagine this would be a good tool for piano teachers to have in their studio. Fun and games is a great way of learning, so the app is a really good complement to regular lessons.

This piano is best for the pianist who knows he or she will make full use of its potential. If you like piano technician stuff and would love to be able to save and change the piano's settings in an app, then this is the piano for you! It sounds really good as well, so beginners, intermediate players and advanced players could easily fall in love with this piano option!
Read the complete review
Also see Music Critic's article Top 10 Best Upright Pianos which includes even more information.
Similar head-to-head comparisons: