Side-by-side comparison
We take a look at two popular items, the Ricard Bunnel G2 and the Aileen Solid Wood. You might think it all comes down to the price, but frankly there is a lot more to it. If you would like to see more product comparisons from the same category, click here.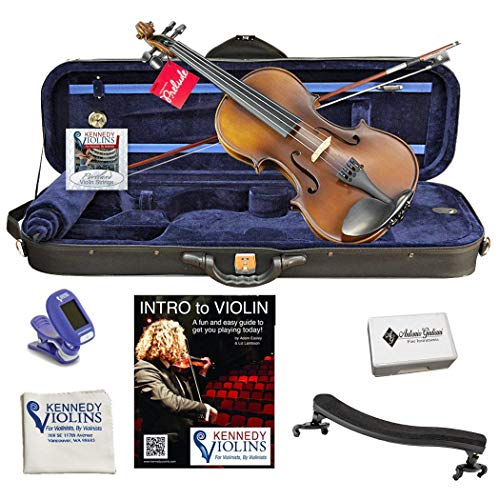 The first product we will be looking at is the Ricard Bunnel G2.

Next up is the Aileen Solid Wood.
HEAD TO HEAD COMPARISON

Ricard Bunnel G2

Aileen Solid Wood

KEY FEATURES

+ Comes with a case
+ High-quality Mongolian horse-hair bow
+ Solid shoulder-rest
+ Oil-based finish (no thick layers of lacquer)



+ Shoulder-rest has foam padding
+ Case is lightweight yet protective
+ Solid, breathable glossy finish
+ Violin with hard case
+ Alloy tailpiece



WHAT OUR TEAM THOUGHT

 The Ricard Bunnel G2 is a perfect example of what Kennedy Violins represents, both craftsmanship and sound wise. Kennedy student violins are constructed to be of a certain standard, and are made of top-quality materials, making them the ideal practice companions. Cons: - May seem heavy for some

Not only is it affordable but is crafted in a way to allow high-quality, professional sound to come through with practice. Thanks to Aileen listening and applying customer feedback, they have managed to make increasingly better instruments over the years. They are constantly updating their violin arsenal, and the Aileen Solid wood student violin starter kit is one of the public's favorites. Cons: - May sound too flat for some
Would you like to know more?
Also see Music Critic's article The 10 Best Student Violins of 2022 which includes even more information.
Other product comparisons: