How do they stack up? The ROVKING Wired Sweatproof vs the ROVKING Over Ear in Ear Noise
In this comparison we put the ROVKING Wired Sweatproof and ROVKING Over Ear in Ear Noise head to head in a battle to find out which wins the specifications war. Not sure which is right for you? With so many great options on the market that's hardly surprising, so read on and see if we can help you reach a decision. For more information and product comparisons, check out our longer article here.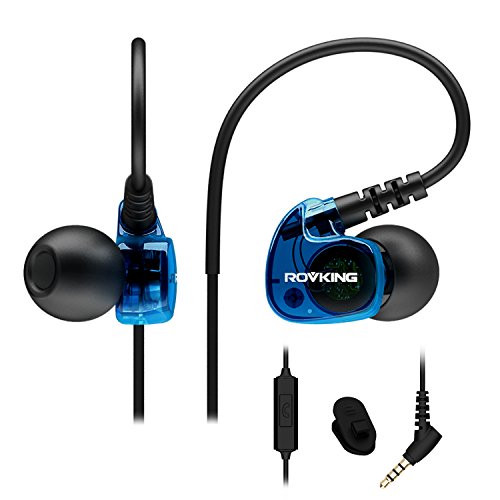 Everyone has different preferences, and we hope our frank reviews will make your decision easier. First, we will take a look at the ROVKING Wired Sweatproof.

Next up is the ROVKING Over Ear in Ear Noise.
HEAD TO HEAD COMPARISON

ROVKING Wired Sweatproof

ROVKING Over Ear in Ear Noise

KEY FEATURES

+ Control your phone's voice assistant directly
+ Compatible with all music devices using the standard 3.5mm headphone port
+ Comfortable in-ear design that helps block out external sounds
+ So comfortable you can wear for long periods of time without any problems!

Cons:
- No volume controls built in



+ A professional over-ear side with different earbud sizes for maximum comfort
+ Thousands of positive five-star reviews proving how great they are
+ Can be used to listen to music and for managing phone calls while on the move
+ Four unique colors and designs to choose from

Cons:
- It doesn't block out external sound completely but does a good job of reducing it!



WHAT OUR TEAM THOUGHT

Being able to control your phone for calls or music is essential while sprinting or jogging, and thankfully this pair allows for full control without having to actually use the phone itself. All play, pause, skip, rewind, hang up, and answer controls are on the cable of the headphones. You can even use Samsung Talk and Siri directly from the headphones!

This is where these headphones exceed, so if you've been plagued by uncomfortable headphones that just get in the way, these are for you. All over features are similar to the leading brands, so you know you're not missing out!
The Bottom Line
You may also be interested in our article 10 Best Running Earbuds in 2023.
Find more comparisons: