Select and Compare: Otium Bluetooth Headphones to the TREBLAB XR500 Bluetooth
Trying to decide between two models? Not sure which is right for you? With so many great options on the market that's hardly surprising, so read on and see if we can help you reach a decision. Click here if you would like to see more product reviews in the same category.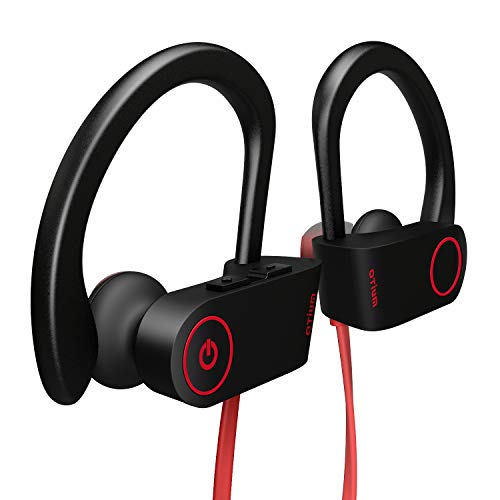 The first product we will be looking at is the Otium Bluetooth Headphones. Kicking off our list today, we're drawing our attention to the Otium wireless headphones. These sleek-looking true wireless earbuds are designed specifically with sports in mind and work very well when helping you push your limits.

Next let's have a look at the TREBLAB XR500 Bluetooth.
A good look at the Otium Bluetooth Headphones
The main feature here is how lightweight the wireless earbuds are, coupled with the secure fit ear tips design. This means you can ensure your running headphones are going to stay exactly where you need them to be, no matter how vigorously you're training.
HEAD TO HEAD COMPARISON

Otium Bluetooth Headphones

TREBLAB XR500 Bluetooth

KEY FEATURES

+ Wireless and can last up to eight hours on a single charge
+ Boasts a secure fit ear tips design to keep your true wireless earbuds in place
+ Comes loaded with Bluetooth 4.1V technology for a stable and reliable connection
+ Has integrated controls for your music or making/taking phone calls

Cons:
- Cannot be charged using a car port or fast charger



+ Sports an impressive eight-hour battery life that keeps on giving
+ Powerful Bluetooth technology that connects in under five seconds
+ CD-quality stereo sound thanks to powerful drivers
+ Available in four unique colors and styles

Cons:
- Integrated buttons are positioned a little differently to traditional versions



WHAT OUR TEAM THOUGHT

Despite being an affordable pair of headphones, the sound quality is great. You'll be able to hear both the high and low end of your music, and the bass is simply fantastic. Enjoy your favorite playlists like never before!

What is there not to like about the Treblab true wireless earbuds? Every feature is enhanced to provide you with the very best experience possible, so that's less time focusing on your equipment and more time focusing on being the best you can be when it comes to running.
Discover more
You may also be interested in our article 10 Best Running Earbuds in 2023.
Related head-to-head product reviews: