1 vs 1 Comparison
We take a look at two popular items, the   WinBridge WB001 Portable Voice System and the   Hisonic HS120B Portable PA System. Our tests and reviews can help point you towards models and brands that suit your needs. This article is part of a series called 13 Best Portable PA Systems of 2022

Let's get started by taking a close look at the   WinBridge WB001 Portable Voice System. Portable systems are not all about outputting greater volume as some might need a balanced solution.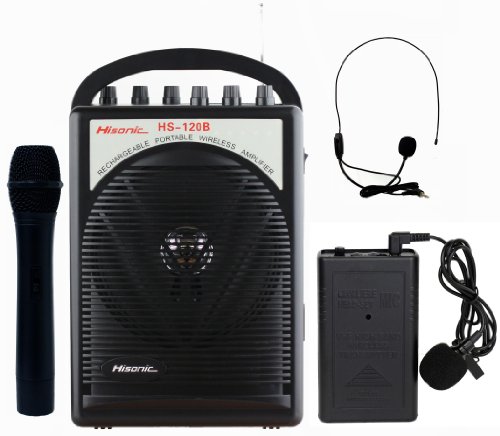 Next up is the   Hisonic HS120B Portable PA System. Hisonic HS120B combines best portability and competence in a single package. This PA System has a powerful 40-watt speaker with a VHF wireless microphone to make your presentations go super recognizable.
Examining the   WinBridge WB001 Portable Voice System
Tour guides, teachers and presenters need an all-in-one portable package to output their say, so getting a high-end PA system for this task won't be a sensible option. This is where WinBridge WB001 Portable Voice System comes into play.
Reasons to buy the   Hisonic HS120B Portable PA System
HS120B is ideal for the ones who use their voice heavily on a regular basis, such as teachers, guides, etc. With a full charge, you get up to 15 hours of amplification over the microphone and 8 hours of entertainment when connected to any other audio source.
HEAD TO HEAD COMPARISON

  WinBridge WB001 Portable Voice System

  Hisonic HS120B Portable PA System

KEY FEATURES

+ Best, small and compact design.
+ Easy to carry as it can be worn around the neck or through belt loops.
+ Powered with a lithium battery that offers up to 8 hours of service.



+ Built-in VHF Wireless microphone with two additional microphone ports.
+ One Year Warranty.
+ Lightweight, compact and portable.
+ Powered with 40-watts of output, producing loud and clear sound quality.
+ Separate controls for tone, volume, and echo.
+ One auxiliary port for output and other for input.
+ One additional port for hooking up speakers.
+ 15 hours of microphone amplification and 8 continuous hours of music playing on a full charge.



WHAT OUR TEAM THOUGHT

 Without a doubt, WinBridge WB001 is a perfect partner for aiding your vocals. With 8 hours of long-lasting battery, the best support for TF/flash card and compact design this portable system won't let you down.

 In the box, you get almost everything to get up and running with your presentation. With 40- watts of power, Independent controls and built-in VHF Wireless microphone HS120B by Hisonic justifies the price tag. It is one of the best selling product of 2022 .
Want to find out more?
You might also be interested in Music Critic's in-depth article on this topic, 13 Best Portable PA Systems of 2022.
See more head-to-head comparisons of products: