1 vs 1 Comparison
Music Critic review products for everyone, from professionals to enthusiasts, and are written in plain English to make it easier to understand the options available and decide between them. Our tests and reviews can help point you towards models and brands that suit your needs. If you would like to see more product comparisons from the same category, click here.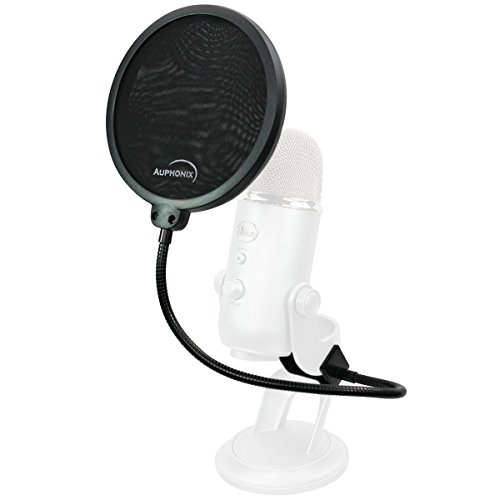 First, let's have a look at the Auphonix 6-Inch Pop Filter. Whilst this 6-inch Auphonix pop filter is suitable for most USB desktop mics it has been designed with the Blue Yeti in mind. Unlike most pop shields, which fix to the boom arm or Blue Yeti microphone stand it will clap directly to your studio mic itself without the risk of damage. It too features a double mesh pop screen giving sufficient protection against high impact sound delivery, which results in flawed vocal recording.

The second product we are looking at in this head-to-head review is the YOUSHARES Mic Cover for Blue Yeti. A mid-range wind shield cover which once again has been designed exclusively for use with Blue Yeti mics and other microphones on the market with similar dimensions. This mic cover provides full mic head coverage to extend the overall life of your studio microphone combatting external dust and saliva from gathering in the equipment. Made from a spongy material that is breathable but adequately safeguards from environmental interruptions. It is straightforward to use and achieves a high quality audio finish neutralizing unnecessary noise. It superbly minimizes hard consonant sounds like 'D ' and 'P' from causing troublesome popping throughout recordings and lowers breaths as well as hisses. It retails for around $7.99, presenting another affordable choice of audio enhancement accessory.
More about the Auphonix 6-Inch Pop Filter
This Auphonix 6-inch pop screen expertly reduces distortion and softens background elements within recording locations. The gooseneck style holder Auphonix flat clamp simply and capably supports the weight of the shield. The Auphonix pop filter holds firmly in position once it has been bent and adjusted to where you desire it. At around $18.97 this Auphonix 6-inch pop filter is a little pricier than the first two products but incorporates some neat attributes specific to use with your Blue Yeti (or Yeti Pro) microphone or a USB desktop mic that are worth the increase.
HEAD TO HEAD COMPARISON

Auphonix 6-Inch Pop Filter

YOUSHARES Mic Cover for Blue Yeti

KEY FEATURES

+ Pliable but supportive neck.
+ Stylish design and color options.
+ Suitable for Desktop USB mics



+ Prevents interference without sacrificing subtle tonality.
+ Made from a high quality sponge material.
+ Easily applied with a circular hand motion.
+ Helps to protect against corrosion.



WHAT OUR TEAM THOUGHT

The way it fixes has been contemplated on. It is clear this filter has actually been fabricated primarily for the Blue Yeti Microphone.

The sponge product is removable and washable eradicating germ growth and stretching overall life spans of your microphone. It has a high build quality, too!
Discover more
Also see Music Critic's article The 10 Best Pop Filters for Blue Yeti Microphones which includes even more information.
Find more comparisons: