Battle Royale: Comparing the HDE 6-Inch Pop Filter Shield to the Sywon Metal Mesh and Foam Mic Cover
Trying to decide between two models? Find out what separates these two items with the full comparison review below. If you would like to see more product comparisons from the same category, click here.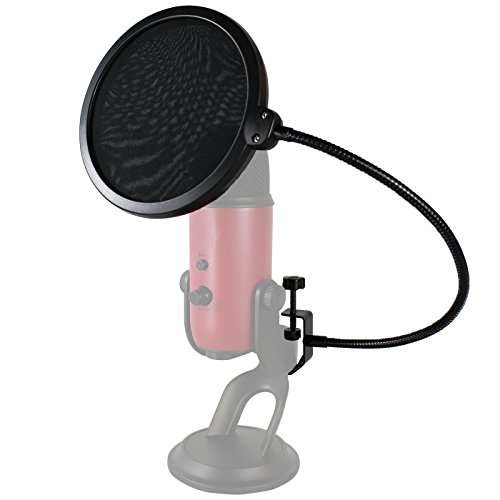 Contestant number one is the HDE 6-Inch Pop Filter Shield. A simple to use clip-on style pop filter shield. This budget pop filter mimics all the features found in typical high-end studio pop filter designs. It has been constructed with a dual layer of woven nylon mesh, which softens the force of the vocals thrown into it, deadening pops. The standard circular shield concept has been tried and tested throughout the music industry. Proven to aid in the creation of professional level recordings.

And now we will have a look at our second product, the Sywon Metal Mesh and Foam Mic Cover. This pop filter cover has a distinct aesthetically pleasing look imitating other more expensive arch shaped filter products on the market. It features a unique triple layer shield comprised of foam, metal and etamine. The layers work together to form a dynamite barrier. It adeptly protects against plosives, hisses, wind interference, audible breath sounds on high and low frequencies. Its semicircular form and composite nature eliminates corrosion from saliva and debris.
More about the HDE 6-Inch Pop Filter Shield
The budget pop filter shield is capable of stopping harsh plosive popping sounds associated with strong consonants and directional microphones to ensure a high quality end result. It has an adjustable neck which can be twisted any direction and a clip attachment making it compatible with a whole host of studio set-ups and a variety products not just your Blue Yeti mic. The budget pop filter itself measures six inches in diameter, so is ideal for using in compact spaces. Its price, $9.99 makes it a low-cost addition to get that sought after pro sound.
Taking a look at the features of the Sywon Metal Mesh and Foam Mic Cover
The Swyon Metal Mesh mic cover accommodates a variety of column shaped microphones, importantly the Blue Yeti. It mounts easily and contains rubber band to help shock absorb during the recording process. It assures a professional level of sound recording with little need for noise reduction in the post production phase. Available for the price of $8.59 it is a stylish heavy-duty option for noise cancellation and audio improvement.
HEAD TO HEAD COMPARISON

HDE 6-Inch Pop Filter Shield

Sywon Metal Mesh and Foam Mic Cover

KEY FEATURES

+ Flexible but sturdy, fully adjustable gooseneck holder.
+ Effective double woven composition for high quality sound.
+ Easy to use secure clamping system.



+ Looks pleasing.
+ Not as expensive as counterparts.
+ Triple player process for extra security.
+ Fits to Blue Yeti shock mounts



WHAT OUR TEAM THOUGHT

It is an inexpensive reproduction of well-established product that successfully emulates the qualities found in higher end models.

The sponge product is removable and washable eradicating germ growth and stretching overall life spans of your microphone. It has a high build quality, too!
Read our full review
You might also be interested in Music Critic's in-depth article on this topic, The 10 Best Pop Filters for Blue Yeti Microphones.
Related product comparisons: