Compare the Professional Foam Windscreen for Blue Yeti to the InnoGear Microphone Pop Filter
In this comparison we put the Professional Foam Windscreen for Blue Yeti and InnoGear Microphone Pop Filter head to head in a battle to find out which wins the specifications war. There is a lot more to this sort of decision than price, so we see if we can help you decide which is best for your needs. If you enjoy this article, you can also check out the full version here.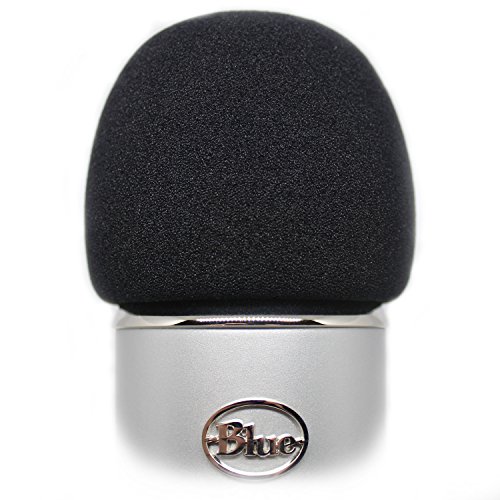 Let's get started by taking a close look at the Professional Foam Windscreen for Blue Yeti. This foam windscreen is specifically designed for use with a Blue Yeti mic. Needless to say it is a top contender when looking for the best pop filter for your new best-selling USB condenser microphone. This wind screen pop filter also fits other large top microphones on the market as well.

Now we will have look at an alternative, the InnoGear Microphone Pop Filter. Another Dual layer, circular clip-on pop shield. This filter attaches with an adjustable rotating screw clamp, so can be affixed to a variety of boom stands and mic stands. The dual layer serves to firstly protect against forceful air which can distort audio productions. Secondly it helps to disperse the air within the second layer with the goal of diminishing the strength of what hits the microphone. It has a sturdy neck and is easy to manipulate to precisely where required. Once placed it retains its position. The shield is less bulky and light-weight, as it has been manufactured solely from fabric differing from similar products which often contain an outer frame. At a competitive $6.99 it is a cost effective asset to improve your home recording abilities.
Taking a look at the features of the Professional Foam Windscreen for Blue Yeti
In comparison to typical pop filters shields this pop screen, as its name suggests, will help reduce the harsh sound of wind gusts. This high degree of protection aimed at outdoor use makes a huge difference in an ordinary indoor home studio set-up. Powerfully minimizing a diversity of unwanted background noises. The foam windscreen for Blue Yeti mics effortlessly stretches over the microphone in its entirety. This means all angles are covered. At a retail price of $12.95, it is a sound investment towards producing professional tracks.
HEAD TO HEAD COMPARISON

Professional Foam Windscreen for Blue Yeti

InnoGear Microphone Pop Filter

KEY FEATURES

+ Foam perfectly fits the over product giving more protection.
+ Simple to use, slip on and go no assembly required.
+ Made from a high quality long-lasting foam.



+ Simple installation
+ Scratch proof gripper on the clamp to prevent damage to boom stands.
+ Double layer system guarantees less hisses and plosives.



WHAT OUR TEAM THOUGHT

As a professional foam windscreen for Blue Yeti microphones, this product provides flawless, multi-directional filtering, without compromising the Blue Yeti's pristine, specialized sound

It promises to reduce sibilant noise and pops on recordings and is suitable for broadcasting.
Discover more
Also see Music Critic's article The 10 Best Pop Filters for Blue Yeti Microphones which includes even more information.
Similar Product reviews: