1 on 1 Testing
Trying to decide between two models? You might think it all comes down to the price, but frankly there is a lot more to it. If you would like to see more product comparisons and reviews in this category, click here.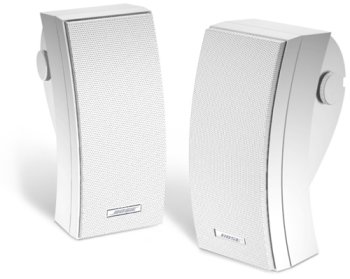 Contestant number one is the Bose 251 Wall Mount Outdoor Speakers.

Next up is the Dual Electronics LU43PB.
HEAD TO HEAD COMPARISON

Bose 251 Wall Mount Outdoor Speakers

Dual Electronics LU43PB

KEY FEATURES

+ Weather resistant
+ Articulated array technology
+ Low frequency capable
+ Available in black and white
+ Crisp and impressive sound



+ Compact and lightweight
+ Easy to mount and swivel
+ Great sound, deep bass
+ Versatile
+ Highly weather-resistant



WHAT OUR TEAM THOUGHT

You can't go wrong with Bose. These speakers are full of richness and clarity and are designed to impress when working with an outdoor environment where it can be a little more difficult to get the best sound. They have also been weather tested to ensure a longer lifespan.

These are the speakers to go with if you want compact quality and affordability all in one. They are impressively loud for a smaller pair of outdoor speakers and are durable enough to handle the weather.
Read our full review
Check out Music Critic's in-depth article 10 Best Outdoor Speakers in 2023 which includes even more information.
See more head-to-head comparisons of products: