1 vs 1 Comparison
Today's product comparison has Music Critic comparing the B&O PLAY by BANG & OLUFSEN Noise Cancelling Earbuds to the Sennheiser IE 800 Audiophile Ear Canal Headphones. You might think it all comes down to the price, but frankly there is a lot more to it. If you find this article interesting, you might also want to read Best Noise Cancelling Earbuds for 2019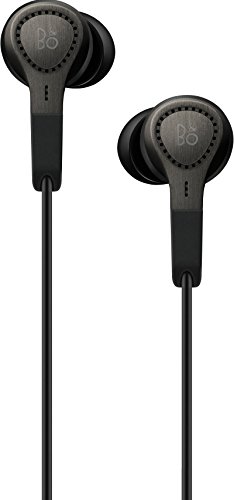 First, let's have a look at the B&O PLAY by BANG & OLUFSEN Noise Cancelling Earbuds. If you're looking for a set of top of the line, high-quality noise canceling earbuds, stop your search here. The B&O Play provides the Bang & Olufsen signature sound in a lightweight stylish package. These earbuds can credit their lightweight body to the fact that they're crafted from a solid block of aluminum. But, don't be fooled by their lightweight feel, as their sound quality and overall performance hit hard. The aluminum body is scratch-resistant, and weighs in at just 40 grams, making them ultra-portable and functional.

The challenger is the Sennheiser IE 800 Audiophile Ear Canal Headphones. Big things can come in small packages. That's exactly what the Audiophile In-Ear Headphones prove.  For anyone looking for an affordable set of noise reducing headphones that still provide a clear, natural sound these are a great option to consider. These in-ear headphones feature an avant-garde, stylish appearance and come in hip color combinations such as black and red, and black and gold. They have a simple, smooth curve and an overall modern shape, with the earbuds fitting securely and tightly to provide a world-class listening experience.
Taking a closer look at the features of the B&O PLAY by BANG & OLUFSEN Noise Cancelling Earbuds
These earbuds deliver a rich, sound performance that captures all the intricate details of your favorite tunes and lets you fully experience your music as it should be heard. By leveraging Active Noise Cancellation (ANC) technology, the in-ear headphones completely cancel out noisy backgrounds and provide a best-in-class acoustic experience. Another great feature is the fact that the ANC will last up to 20 hours, and still remains functional even if the battery dies. The ANC is rechargeable, which means you can maintain control over the noise canceling power and should have plenty of battery power to cancel noisy areas all day long.
Taking a closer look at the features of the Sennheiser IE 800 Audiophile Ear Canal Headphones
Their 120° oblique in-ear shapes and high-flexibility, medical grade silicone provide some of the best noise isolation available in this style of headphone. To ensure the perfect fit for your unique ears, you'll receive 6 sets of exchangeable earbud tips to find the proper size for you. Without having to worry about the earbuds falling out, you'll be free to enjoy your music and take your calls freely.
HEAD TO HEAD COMPARISON
B&O PLAY by BANG & OLUFSEN Noise Cancelling Earbuds
Sennheiser IE 800 Audiophile Ear Canal Headphones
KEY FEATURES

+ Active Noise Cancellation technology completely blocks out noise

+ Rechargeable ANC with battery life up to 20 hours

+ Lightweight, aluminum body in sleek color choices

+ Memory foam and silicone ear tip options

+ Medical-grade, flexible earbud tips

+ Outstanding noise isolating performance

+ Quickly control of multi-functions at your fingertips

+ Stylish color combinations and sleek shape
WHAT OUR TEAM THOUGHT
Overall, these in-ear headphones provide outstanding sound quality and performance in a tight, light body. You'll get the best of both worlds by having a high performing set of ear buds that are equally stylish.
 Smoothly and seamlessly switch between music and phone calls so you can work hands-free and on the go. These headphones are designed for a wide variety of devices including Apple and Android products.
The Bottom Line
Also see Music Critic's article Best Noise Cancelling Earbuds for 2019 which includes even more information.
Similar head-to-head comparisons: