1 on 1 Testing
In today's comparison we invite you to see how the ISOtunes Noise Isolating Bluetooth Earbuds stacks up against the SENSO Noise Cancelling Bluetooth Headphones. Find out what separates these two items with the full comparison review below. If you find this article interesting, you might also want to read Best Noise Cancelling Earbuds for 2022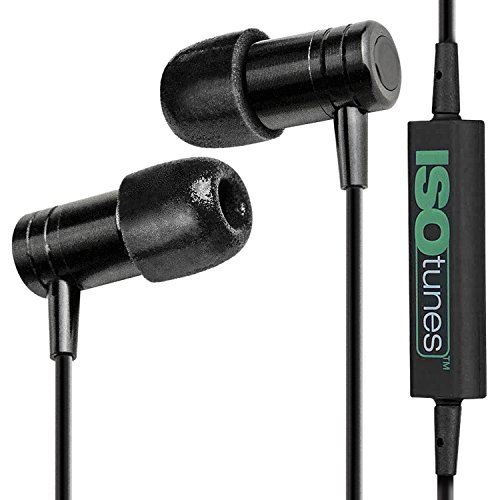 First, let's have a look at the ISOtunes Noise Isolating Bluetooth Earbuds. These are a noise isolating set of bass earbuds but don't confuse them with any old typical pair. They're the world's first proven pair of noise isolating Bluetooth earbuds and they can compete with many in the noise blocking category. They've been industrial lab tested and are ANSI certified with a noise reduction rating of 26db, and also include ISOtunes signature SafeSound technology to prevent any hearing damage.

The second product we are looking at in this head-to-head review is the SENSO Noise Cancelling Bluetooth Headphones. These are another of the more affordable options on the top 10 best list, and there's good reason why we've included them. First off, they provide a truly high definition, high fidelity sound experience. They use the latest Bluetooth 4.1 CSR technology and state of the art acoustic components in order to produce incredible sound quality with deep bass and crystal clear treble.
Taking a closer look at the features of the ISOtunes Noise Isolating Bluetooth Earbuds
The ear tips are designed with heat-activated Comply memory which means they'll form to the unique shape of your ears, creating the perfect seal to maximize noise isolation, and provide quality comfort and fit.
Reasons to buy the SENSO Noise Cancelling Bluetooth Headphones
The Bluetooth technology allows you to connect seamlessly with all Bluetooth enabled devices up to 30 feet away, so you can freely move around for quite a distance without interruption or losing a connection. Just think, you're out doing some lawn work and have to head to run inside to grab something. You don't have to worry about skipping a beat as long as your device is within 30 feet.
HEAD TO HEAD COMPARISON

ISOtunes Noise Isolating Bluetooth Earbuds

SENSO Noise Cancelling Bluetooth Headphones

KEY FEATURES

+ Heat-activated Comply memory foam ear tips mold to your ears providing the perfect seal
+ Industrial lab tested
+ ANSI Certified Noise Reduction Rating of 26db



+ Bluetooth 4.1 CSR technology
+ Connection up to 30 feet away
+ Unparalleled rock-solid bass and ultra crisp treble
+ Up to 8 hours of music enjoyment
+ Rechargeable battery



WHAT OUR TEAM THOUGHT

They're IPX3 water and sweat resistant which makes them perfect for outdoor use and exercise. With the manufacturer's 1 year guarantee, even if you do damage them due to sweat they'll replace them. Finally, they have a sleek brushed steel finish and come in a jet black. Overall, a great pick for high-quality sound, comfort, and noise reduction performance.

 That's not all, the new and improved lithium polymer battery allows seamless enjoyment of music for up to 8 hours and 240 hours stand-by with a quick charge of only 1.5 hours.
The Bottom Line
Check out our article Best Noise Cancelling Earbuds for 2022 for more info.
Related head-to-head product reviews: