How do they stack up? The Audix D6 Cardiod vs the Sennheiser e901 Condenser
Trying to decide between two models? Not sure which is right for you? With so many great options on the market that's hardly surprising, so read on and see if we can help you reach a decision. This article is part of a series called Top Kick Drum Mic for Live Sound & Recording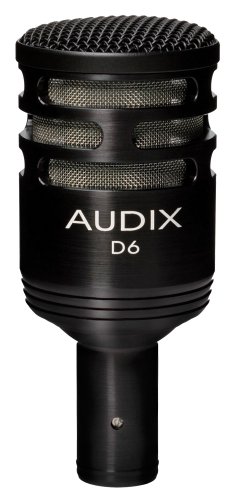 Everyone has different preferences, and we hope our frank reviews will make your decision easier. First, we will take a look at the Audix D6 Cardiod.

Next let's have a look at the Sennheiser e901 Condenser. Once again, Sennheiser has showed us that they can give the market a kick drum that looks extremely fashionable and inviting. If you are into having this modern look attached to your drum set, this condenser mic has a lot to offer, especially performance wise. The response of this microphone is optimized to capture, reproduce and record all bass kick drum sounds that you will throw its way. Many people seem to have a problem with the fact that most, if not all, microphones need to have a stand, and fiddling with the stand to get the microphone to be in a suitable position can be frustrating to say the least.
But what about the Sennheiser e901 Condenser
Sennheiser knows the pain that comes with adjusting microphones, and that's why the E901 doesn't need any kind of stand. You can simply take a pillow and lay it front of the kick drum, that's all there is to it! If you are keen on having an easier time with your kick drum mics and like to take up comfort when it's offered, this mic is definitely a choice you should consider when choosing your next drum microphone. Despite the mic being tailor-made for bass frequencies, it's also very capable of handling very high SPLs and comes with a 10 year warranty, too!
HEAD TO HEAD COMPARISON

Audix D6 Cardiod

Sennheiser e901 Condenser

KEY FEATURES

+ handles high SPLs (sound pressure levels)
+ perfect for low-frequency instruments
+ powerful low end



+ intuitive design
+ quick response condenser mic
+ 10 year warranty



WHAT OUR TEAM THOUGHT

Audix has supplied the market with a good-looking, robust and sturdy microphone that can accompany you on tour or in studio without any trouble. The lows mass diaphragm is specially designed to give you the best transient response possible so that your performances and recordings can be as faithful to your playing as possible.

Sennheiser has been on the market for a long time, and they know how frustrating microphone stands can be, and that's why decided to finally introduce a product that doesn't have any of that. With the E901 you can easily start playing within seconds without having to fiddle around the kick drum for half an hour! A truly epic condenser mic!
Read our full review
Music Critic did a post with even more information on this topic. Click here to see it.
See more head-to-head comparisons of products: