Side-by-side comparison
In this brief comparison, we are going to be putting two products head to head. Find out what separates these two items with the full comparison review below. For more information and product comparisons, check out our longer article here.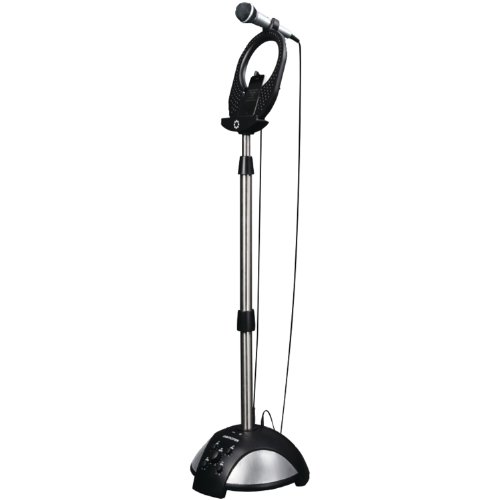 Everyone has different preferences, and we hope our frank reviews will make your decision easier. First, we will take a look at the Memorex MKS-SS2 Microphone SingStand System. While some of us love the funky lighting system and colorful displays, some like there karoke to be a little simpler. Memorex Karaoke System is perfect for such individuals who like things simple. It is basically a stand that is a karaoke machine too. It has a powerful speaker at the base that also houses the controls to manage the sounds. There is another microphone jack as well. You can place your devices without worrying about dropping them as it has very secure construction to ensure that everything stays in place no matter how crazy the party gets.

The challenger is the Kids Karaoke Machine with 2 Microphones. When we are talking about the best karaoke system, it would not be fair to leave out the kids so here is something perfect for them. This is a funky shinny purple colored home system that is sure to be the life of all birthday parties. The system features two microphones with one on an adjustable stand. The height lies in between 18.5 to 40 inches which is ample for most kids.
A deeper look at the features of the Memorex MKS-SS2 Microphone SingStand System
The Automatic Voice Control which is a technology that automatically balances your vocals to have a balanced ratio with the music. Moreover, there is instrument input as well where you can insert your guitar or other musical instruments to play the music yourself.
But what about the Kids Karaoke Machine with 2 Microphones
Since it is for kids the controls are very easy. There is a knob for switching it on or off and the aux allows you to quickly connect the device and play the kids' favorite tracks. It works on 4 AAA batteries which are included in the set. The colorful party lights shine when the song plays and kid obviously love it.
HEAD TO HEAD COMPARISON
Memorex MKS-SS2 Microphone SingStand System
Kids Karaoke Machine with 2 Microphones
KEY FEATURES
WHAT OUR TEAM THOUGHT
It is a simple yet multipurpose karaoke stand that takes minimal space in the room. You get all the control in your hand and can host fun karaoke parties right from the comfort of your own living room. It comes with complete accessories and is a complete package for a karaoke night of fun.
It is simply awesome for its price. It is funky, decent quality and comes in a price tag that is not at all heavy on the pocket. It can serve as a perfect birthday present for your boy or girl which they can enjoy with their friends.
Discover more
You may also be interested in our article 11 Best Karaoke Machines of 2019.
Related head-to-head product reviews: