How do they stack up? The ION Audio Block Rocker Professional Karaoke Machine vs the Electrohome Portable Karaoke System
We will be looking at two popular products, the ION Audio Block Rocker Professional Karaoke Machine and the Electrohome Portable Karaoke System. Not sure which is right for you? With so many great options on the market that's hardly surprising, so read on and see if we can help you reach a decision. This product comparison article is just one in a series titled 11 Best Karaoke Machines of 2020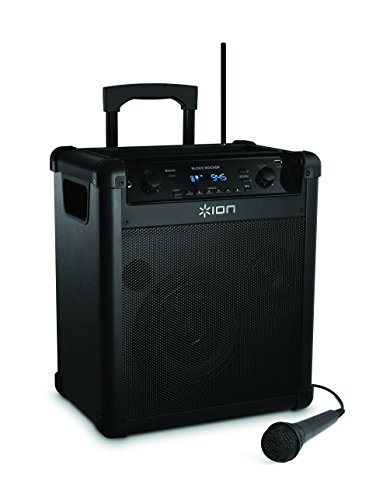 Everyone has different preferences, and we hope our frank reviews will make your decision easier. First, we will take a look at the ION Audio Block Rocker Professional Karaoke Machine.

The second product we are looking at in this head-to-head review is the Electrohome Portable Karaoke System. Electrohome offers a Karaoke machine that works well with virtually all kinds of audio inputs. It has a CD/CD+G input, as well as a USB port, to play right from your flash drive. There is, of course, an auxiliary port for playing music directly from your phone, tablet, or pc. The machine is small and therefore portable enough to carry anywhere. Two speakers produce highly amplified sound. The 3.5 inch screen displays lyrics, but if you need a bigger screen you can connect it to your TV.
But what about the Electrohome Portable Karaoke System
The Adjustable Digital Key control lets you tune the recorded music to match your voice range, eliminating the need to scream out loud.  This is a must-have if you throw karaoke parties often. There is a disc included with the machine, that harbors popular karaoke sounds. T, price is reasonable considering it offers so many features and is quite innovative.
HEAD TO HEAD COMPARISON
ION Audio Block Rocker Professional Karaoke Machine
Electrohome Portable Karaoke System
KEY FEATURES
+ Superb value
+ Great audio quality
+ Good range of features


WHAT OUR TEAM THOUGHT
Not only is ION Audio Block Rocker easy to use and has superb performance, it also gives you all the control. With an app for Android and iOS, you can adjust the sounds and effects, giving your party a more personal touch.
This one is jam-packed with the latest technology, as is evident with its features. One of those brilliant features is that the Auto Voice Control. This records your sounds when you sing at your best, so if you sing it again and your voice fails, it plays the prerecorded song - so you never really mess up! How cool is that?
Read the complete review
Check out Music Critic's in-depth article 11 Best Karaoke Machines of 2020 which includes even more information.
Similar head-to-head comparisons: