How do they stack up? The Singing Machine SML385BTW Karaoke Machine vs the Grand Videoke Symphony 2.0
Today Music Critic will be comparing the Singing Machine SML385BTW Karaoke Machine to the Grand Videoke Symphony 2.0. Not sure which is right for you? Read on and find the perfect item for your needs. This article is part of a series called 11 Best Karaoke Machines of 2019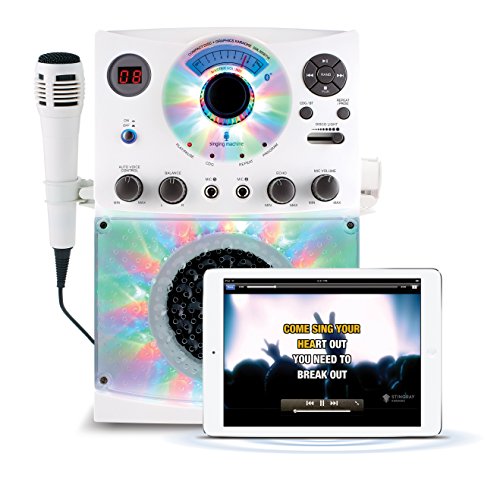 Let's get started by taking a close look at the Singing Machine SML385BTW Karaoke Machine. It is seldom that you find an electronic device that is both high quality and cheap. This Karaoke System from Singing Machine is quality, fun and incredibly affordable. The possibilities are many as you have a CD player in this home system. We are often told CDs are so 90s but a lot of good music still exists in our CD collections. You can connect your phone too using Bluetooth. Although there is only one microphone included with the machine, there is another jack.

Now we will have look at an alternative, the Grand Videoke Symphony 2.0. This is a one of a kind of Karoke system that features two exceptional quality microphones with myriads of functions. The control is in your hand, literally and the fun never ends. There is a long list of songs including hits from the past, and recent songs as well as K-Pop. This virtually eliminates the need for searching the song and connecting the device to play it. Whatever song you are in the mood to sing, you can quickly find it in the roster.
Examining the Singing Machine SML385BTW Karaoke Machine
And you know what that means? Duets! It is a funky looking machine with built in speaker, easy controls and diverse play options. You can use the RCA cable to connect with the TV to read the lyrics off it. Obviously, every karaoke needs a little bit of fun so with this you have the disco light effects to brighten the room - just add some disco balls!
Taking a closer look at the features of the Grand Videoke Symphony 2.0
There are 5,150 built in songs to be exact. Now a good thing that it offers is voice command. You can control the home system with your voice. It also includes HD picture backgrounds to add some visual effects to your singing. Obviously, since it has two mics it makes an amazing fit for duets.
HEAD TO HEAD COMPARISON
Singing Machine SML385BTW Karaoke Machine
Grand Videoke Symphony 2.0
KEY FEATURES
+ Excellent value
+ Built in party lights
+ Built in CD player
WHAT OUR TEAM THOUGHT
This particular system is that it is super affordable. A lot of students and teenagers want these machines for their parties and this of course suits their budget well. It should never be too expensive to have a nice party.
This makes singing songs quite effortless as most karaoke favorites that are almost sung at every party are already programmed in to this. Whether you want to sing Abba or Lady Gaga, you have it right there in your hands. Above all, it super easy to carry as well.
Read our full review
Also see Music Critic's article 11 Best Karaoke Machines of 2019 which includes even more information.
See more head-to-head comparisons of products: