1-v-1 Product Comparison - the Polk Audio RC65i vs the Polk Audio 255C-RT
In this brief comparison, we are going to be putting two products head to head. There is a lot more to this sort of decision than price, so we see if we can help you decide which is best for your needs. You might also be interested in our article 10 Best In-Wall Speakers of 2023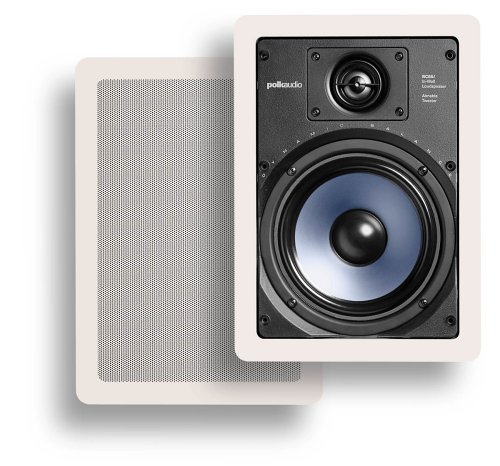 Contestant number one is the Polk Audio RC65i. This premium pair from Polk Audio is another fantastic 2-way class speaker choice. Polk Audio makes some pristine audio products, and these are no exception.

Now we will have look at an alternative, the Polk Audio 255C-RT. This 3-way class, central channel speaker is not only suitable for mounting in walls, but also your ceiling too. So if you're looking for in-ceiling speakers to add to your surround sound home theater setup, these just might be the best for you.
A closer look at the Polk Audio RC65i
Although a little smaller than the first at 6.5" speakers, this pair serve up a superb sound performance. They are ideal for internal or external mounting as the core electrical components have been expertly crafted and housed utilizing state-of-the-art durable, moisture-resistant materials.
HEAD TO HEAD COMPARISON

Polk Audio RC65i

Polk Audio 255C-RT

KEY FEATURES

+ No extra assembly
+ Wide dispersion
+ Water resistant

+ 3-way class.
+ Advanced calibration.
+ Can be ceiling mounted.
+ Part of a superb home system set-up series.

WHAT OUR TEAM THOUGHT

These Polk Audio speakers are a great poolside or patio option. They are an affordably priced pair with an optional grille to paint. Get excellent sound quality wherever you choose to install this in-wall speaker system.

This in-ceiling or wall speaker features a well-thought-out design. The internal components used are of superb quality. The grille could be better for its asking price, but the sound quality is pretty impeccable overall. If you're looking for a ceiling speaker to add to your home theater setup, this might be the one for you.
Discover more
Music Critic did a post with even more information on this topic. Click here to see it.
Similar head-to-head comparisons: