Side-by-side comparison of the Polk Audio RC80i and the Yamaha NSIC800WH
Today's product comparison has Music Critic comparing the Polk Audio RC80i to the Yamaha NSIC800WH. You might think it all comes down to the price, but frankly there is a lot more to it. If you would like to see more product comparisons and reviews in this category, click here.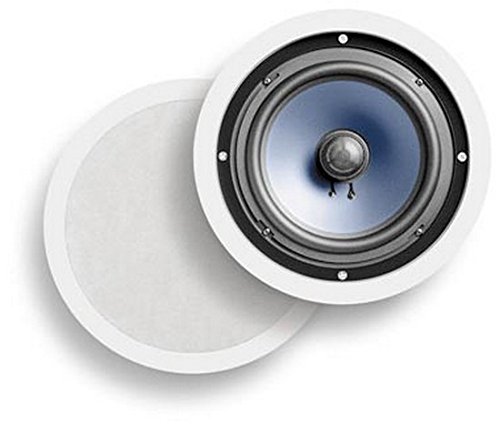 Let's get started by taking a close look at the Polk Audio RC80i. If you're looking for a terrific 2-way class option that gives Klipsch a run for its money, the Polk Audio RC80i might be one of the best ceiling speakers for you. This set comes in a pair, creating an amazing sound system that will take your listening experience to the next level. It's the perfect addition to all home audio systems.

Next let's have a look at the Yamaha NSIC800WH. This pair of premium level 2-way class coaxial speakers are a formidable entry from Yamaha. The Yamaha NS-IC800WH produce amazing audio that is well-rounded with a seamless crossover, making them some of the best in-ceiling speakers on the market.
Taking a look at the features of the Yamaha NSIC800WH
The dual setup utilizes an 8-inch blue polypropylene mica cone woofer paired with a tiny fluid-cooled soft dome tweeter. The cooling makes the tweeter far more efficient and adds to its longevity, protecting it from overheating, extending the high-frequency response into ultra-high reals, and ultimately providing the crisp tops tasked of it.
HEAD TO HEAD COMPARISON

Polk Audio RC80i

Yamaha NSIC800WH

KEY FEATURES

+ Swivel mounted tweeters and low-profile.
+ Competitively priced.
+ Great mid-bass frequencies.
+ Water and rust-resistant.

+ Well-designed grilles.
+ Expert circuitry.
+ Affordable pair.
+ Easily mounted.

WHAT OUR TEAM THOUGHT

When it comes to affordable speakers, Polk is producing some of the highest-rating best-sellers on the market. Somehow they always manage to manufacture quality models that rival the best in their class, but with a much more forgiving price tag. With a great build-quality and moisture-resistant materials, they can't be beaten. So if you want exceptional sound quality at a reasonable price, these might be the best ceiling speakers for you.

These ceiling speakers are very precisely built and have many measures in place to help achieve the best sound quality possible from a direct mount Not to mention, they can be placed in walls or ceilings. So if you're looking for in-wall speakers to add to your home theater setup, these are a great consideration.
Discover more
Also see Music Critic's article 10 Best In-Ceiling Speakers of 2023 which includes even more information.
Related product comparisons: