Battle Royale: Comparing the Torin TRP6185 Swivel Shop Guitar Stool to the On Stage DT8500 Guitar/Keyboard Throne
We will be looking at two popular products, the Torin TRP6185 Swivel Shop Guitar Stool and the On Stage DT8500 Guitar/Keyboard Throne. There is a lot more to this sort of decision than price, so we see if we can help you decide which is best for your needs. This article is part of a series called The Top Rated Guitar Chairs of 2023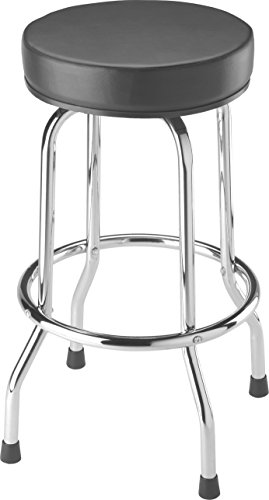 Everyone has different preferences, and we hope our frank reviews will make your decision easier. First, we will take a look at the Torin TRP6185 Swivel Shop Guitar Stool. This is a chair that would not look out of place in a bar, rehearsal space, recording studio, shop or garage. It has a super slick classic look and design and should take no longer than 10-15 minutes to put together with a screwdriver after purchasing.

The second product we are looking at in this head-to-head review is the On Stage DT8500 Guitar/Keyboard Throne. On-Stage are veterans in this game. They have been around for over 36 years now and pride themselves on product innovation. They are a leading global supplier or instrument and microphone stands and a whole host of other music equipment. As well as innovation they aim for durability and affordability. It is this company ethos that has resulted in people using their products every single day the world over, and as they cover 8 different categories and carry over 300 different products it's easy to see why.
Examining the Torin TRP6185 Swivel Shop Guitar Stool
The chair is a luxurious jet black vinyl that not only looks awesome but is also extremely comfortable, sporting a 14 ½" dense foam padding. Also, it can swivel a full 360 degrees which is absolutely perfect for guitar players, giving you the freedom of movement required for guitar playing comfortably and singing.
But what about the On Stage DT8500 Guitar/Keyboard Throne
As we mentioned above these guys pride themselves of their innovative products. The 8 categories they cover are Guitar, Keyboard, Microphone, Band and Orchestra, Amp and Mixers, Lighting and speakers. Within the vast range of specialties their forward-thinking designers have been responsible for countless world firsts such as speaker stand to lock pins, quick connect mic stands, the very first ever double/triple lock guitar stands and many, many more.
HEAD TO HEAD COMPARISON

Torin TRP6185 Swivel Shop Guitar Stool

On Stage DT8500 Guitar/Keyboard Throne

KEY FEATURES

+ Dense foam padded seat
+ Seat swivels full 360 degrees
+ Extremely solid



+ Strong construction
+ Comfortable seat and backrest
+ Highly adjustable in all aspects



WHAT OUR TEAM THOUGHT

Overall a good quality stool. Definitely one for those of you seeking value for money and a decent level of product for a budget price tag.

 The On Stage DT8500 Guitar/Keyboard Throne is one of the best chairs around. On-stage are known for turning out exceptional gear and they have done it again with this chair, suitable for guitarists and keyboard players.
The Bottom Line
You may also be interested in our article The Top Rated Guitar Chairs of 2023.
Other product comparisons: