Side-by-side comparison of the Gibraltar 9608MB Cordura Guitar Stool with Backrest and the Fender 30 Guitar Barstool
Today Music Critic will be comparing the Gibraltar 9608MB Cordura Guitar Stool with Backrest to the Fender 30 Guitar Barstool. The team take this task very seriously - two products enter, but only one can leave. This article is part of a series called The Top Rated Guitar Chairs of 2023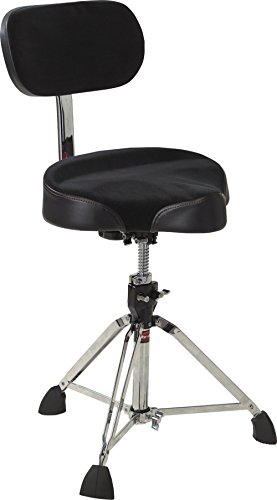 Everyone has different preferences and priorities, so to make choosing easier we have attempted to give a frank review of the products. Let's start with the Gibraltar 9608MB Cordura Guitar Stool with Backrest. Gibraltar Hardware may not be that well known to many guitar players. They were founded in 1993 and are a company more commonly associated with bar stools in the world of drumming rather than guitar. Their drum gear is actually really good with them producing everything you will need from stands to stools. Also it is interesting to note that Lamb of God's Chris Adler uses their gear.

Next let's have a look at the Fender 30 Guitar Barstool. Fender are obviously a brand that needs no introduction. Along with Gibson they are without question a giant of the guitar industry with an absolutely endless list of celebrity musicians utilising their products. They are an outfit famous the world over for their guitars and other gear such as amps, leads and even chairs.
Examining the Gibraltar 9608MB Cordura Guitar Stool with Backrest
The 9606MB is actually a drum throne, yet it's large and versatile design allows it to be used as a guitar chair as well. It is a sizeable barstool and stands out from its competitors with adjustable backrest and an extra-wide motorcycle style top. The padded Moto-seat sports a Cordura top and the sides and bottom are reinforced with vinyl.
A closer look at the Fender 30 Guitar Barstool
Fender guitar chairs are premium and create high build quality chairs with a slick retro design. The support is absolutely solid. This particular chair is made from sturdy steel tubing that is 1" thick and chrome plated the professional construction of this guitar chair really shines through.
HEAD TO HEAD COMPARISON

Gibraltar 9608MB Cordura Guitar Stool with Backrest

Fender 30 Guitar Barstool

KEY FEATURES

+ Extra wide moto-chair
+ Sturdy backrest
+ Highly adjustable



+ Official Fender product
+ Seat swivels 360 degrees
+ Solid, high quality steel
+ Professionally finished seat top designed with Fender logo



WHAT OUR TEAM THOUGHT

A professionally built barstool indeed. Does exactly as it says it does and is super comfy with the extra large chair, backrest and all round adjustability. Overall a great choice when looking at guitar chairs however, it does come with a higher price tag.

What can we say, a guitarist just cannot go wrong with Fender. This swivel seat looks incredible and is the epitome of quality from the solid steel construction to the beautifully finished seat top.
Would you like to know more?
Check out Music Critic's in-depth article The Top Rated Guitar Chairs of 2023 which includes even more information.
Find more comparisons: