Side-by-side comparison
We take a look at two popular items, the Empress ParaEq and the MXR M108S Ten Band. You might think it all comes down to the price, but frankly there is a lot more to it. If you would like to see more product comparisons from the same category, click here.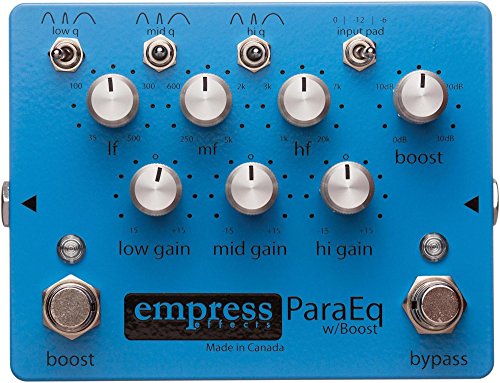 The first product we will be looking at is the Empress ParaEq. Empress. The name has a royal ring to it that does raise your anticipation slightly. When you see the EQ pedal you get that same feeling. You can feel you fingers itching to touch all those lovely controls. Is it any good, then? Oh, yes, it is the best!

Next up is the MXR M108S Ten Band. This EQ from MXR is a high quality gem that offers noise-reduction circuitry that works perfectly. It has a cool design with bright LEDs to let you see what's going on and that are clear even in daylight.
More about the Empress ParaEq
This device offers outstanding sound quality and gives you a warm, full tone, without masking the tone of your guitar. If you use this EQ pedal at the front of your chain and boost it will also reduce the noise from other EQ pedals. It has unbelievable 30dB of boost! Just that is reason enough to buy it, right?
Reasons to buy the MXR M108S Ten Band
This can be very useful, but we're guessing that it could be a little too bright if you were on a dark stage, they are so bright that the risk is they would blind you so they actually don't help you see, rather the other way around. But if you will be using it at home or in a studio, then they are just helpful.
HEAD TO HEAD COMPARISON

Empress ParaEq

MXR M108S Ten Band

KEY FEATURES

+ Premium, top quality EQ
+ Super quiet and compact
+ Up to 30 dB of boost



+ 12 dB boost
+ Dual outputs to run separate signal chains
+ Bright LEDs
+ True bypass



WHAT OUR TEAM THOUGHT

EQ pedals like this is just one of the little things that make life worth living. Everything about it breathes quality and perfection and the boost goes up to 30 dB. It is very quiet and just allows you to play with joy without having to worry too much about anything else.

This is a good option for musicians mostly playing in daylight since the LEDs are really bright to allow you to see easily. The fact that it has double output and true bypass makes it a winner, along with the sleek design and sturdy aluminum housing. This could easily become one of your guitar essentials!
Would you like to know more?
Also see Music Critic's article The Top EQ Pedal for Metal Guitar & Bass Playing in 2023 which includes even more information.
Other product comparisons: