1 vs 1 Comparison
See how the EarthQuaker Devices Tone stacks up against the Caline 10 Band in today's product comparison. The team take this task very seriously - two products enter, but only one can leave. This product comparison article is just one in a series titled The Top EQ Pedal for Metal Guitar & Bass Playing in 2023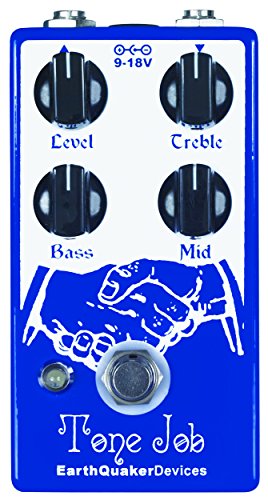 Everyone has different preferences, and we hope our frank reviews will make your decision easier. First, we will take a look at the EarthQuaker Devices Tone.

The second product we will be examining in this comparison is the Caline 10 Band. On to number five on our list! The Caline EQ pedals are balancing on the edge between the top budget pedals and medium price EQ pedals. With ten bands and up to 12 dB boost it is good enough. It is quiet in itself but does sometimes enhance noise from other pedals, so this pedal is best for live playing and not so much for recording. This little extra noise only occurs on certain frequencies though, so it's possible that it won't disturb you.
A good look at the Caline 10 Band
It also makes a little noise at startup, but this can be prevented by connecting the power supply to it before you connect the lead to your amp. So it's partly got a will of its own, but as soon as you figure these things out it starts delivering.
HEAD TO HEAD COMPARISON

EarthQuaker Devices Tone

Caline 10 Band

KEY FEATURES

+ Boosts up to 20dB
+ Handles electric guitar
+ Perfect tone



+ 10 bands
+ Up to 12dB boost
+ Affordable



WHAT OUR TEAM THOUGHT

The simple truth why we like and recommend this EQ, is that it does such an incredible job. It might sound cheesy, but it is just one of the best pedals out there and the sound talks for itself. Try it and we guarantee you won't be disappointed.

These pedals do what they're supposed to do and for the price we feel like we can't complain. It would probably best suit somebody who knows what he's doing since it does have a bit of a personality, but once you have made yourself acquainted with it it runs smoothly and is as dependable as other pedals. It looks great too!
Would you like to know more?
You may also be interested in our article The Top EQ Pedal for Metal Guitar & Bass Playing in 2023.
Similar Product reviews: