How do they stack up? The Yamaha DTX400K Customizable Electronic Drum Set vs the Roland TD-25KV V-Tour Drum Kit
Today Music Critic will be comparing the Yamaha DTX400K Customizable Electronic Drum Set to the Roland TD-25KV V-Tour Drum Kit. Not sure which is right for you? Read on and find the perfect item for your needs. This article is part of a series called 10 Best Electronic Drum Sets of 2023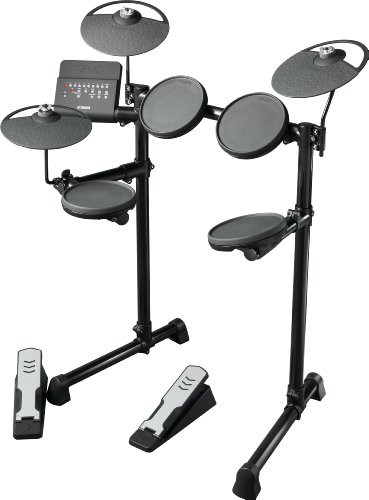 Let's get started by taking a close look at the Yamaha DTX400K Customizable Electronic Drum Set.

Now we will have look at an alternative, the Roland TD-25KV V-Tour Drum Kit. Available since 2015, there is no denying that the Roland TD-25 KV electronic drum set is the flagship of all Roland products. While it is the most expensive of all the electronic kits listed so far, it is rightfully so.
Taking a closer look at the features of the Roland TD-25KV V-Tour Drum Kit
Astonishingly weighing in at only 25 kg, it lives up to its name as the perfect tour kit. It will not add any extra weight to the luggage and will still allow you to perform with phenomenal sound and quality.
HEAD TO HEAD COMPARISON

Yamaha DTX400K Customizable Electronic Drum Set

Roland TD-25KV V-Tour Drum Kit

KEY FEATURES

+ Comes in a bundle with headphones and seat
+ Compact and doesn't take up much space
+ 10 different sound settings



+ Beautiful in design and appearance
+ Hundreds of effects and drum sounds available
+ Responds organically to the drummer's playing thanks to the advanced sound engines
+ To-the-point interface
+ Customizable to suit every need



WHAT OUR TEAM THOUGHT

Ranking within the top 50 on Amazon when looking at electronic kits, it is by far the most affordable and all-inclusive bundle you can ask for. The quality of the kit itself is great, as well as how easily you can customize it. All in all, it's the best electronic drum set for any beginner looking to get into the world of cymbals and hi-hats!

Being in the top 20 list of drum kits on Amazon, there is no question that the Roland TD-25KV has a lot to offer for its price and popularity. It provides superior sound thanks to Roland's ever-present superNATURAL features and mesh heads that help you get a natural feeling as you play. The adjustable drum rack is easy to use. There's no question about it; the Roland TD-25KV is one of the best electronic drum sets!
Read our full review
Also see Music Critic's article 10 Best Electronic Drum Sets of 2023 which includes even more information.
See more head-to-head comparisons of products: