How do they stack up? The Roland TD-11K-S Electronic Drum Set vs the Alesis DM10 Studio Kit
We will be looking at two popular products, the Roland TD-11K-S Electronic Drum Set and the Alesis DM10 Studio Kit. Not sure which is right for you? With so many great options on the market that's hardly surprising, so read on and see if we can help you reach a decision. This product comparison article is just one in a series titled 10 Best Electronic Drum Sets of 2019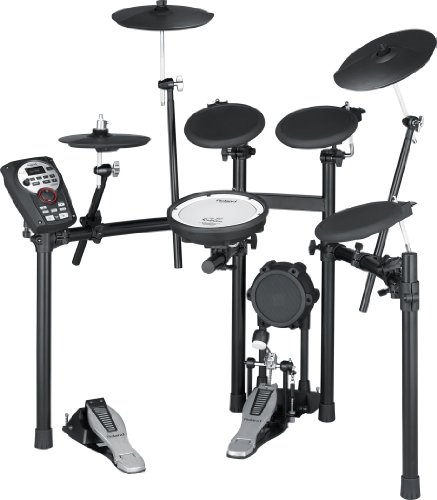 Everyone has different preferences, and we hope our frank reviews will make your decision easier. First, we will take a look at the Roland TD-11K-S Electronic Drum Set. Having its first release in May of 2012, The Roland TD-11K is a fantastic choice; it is right in the middle of the production line of all the Roland drums, which means it gets the best of both worlds. It also means that even though it is already tested and tried, it is also affordable and aged very well, earning itself a worthy place among the new Roland drums.

The second product we are looking at in this head-to-head review is the Alesis DM10 Studio Kit. The Alesis DM10 is truly a professional electronic drum kit for any advanced player or beginner that is looking to spend more money in investing in such a high-quality kit. Weighing in at 30 kg, this digital equipment is ideal for taking it around to shows and having a high-quality set up at the same time.
Reasons to buy the Roland TD-11K-S Electronic Drum Set
There are many reasons at to why the Roland TD-11k is such a great pick when looking at digital drums. It's light-weight; weighing in at only 30kgs and rather compact, measuring 144.8 x 99.1 x 81.3 cm.
But what about the Alesis DM10 Studio Kit
The construction and frame of the Elesis DM10 is sturdy and doesn't move around as you play, which eliminates a problem many other electronic drum kits seem to have. The Alesis DM10 also has a great choice of effects that will have you entertained for hours as you play around and try to choose the optimum setting for your new piece of equipment!
HEAD TO HEAD COMPARISON
Roland TD-11K-S Electronic Drum Set
Alesis DM10 Studio Kit
KEY FEATURES
+ A big LCD interface for easy use
+ A COACH function to help players practice
+ Pre-recorded backing songs to play along with


+ More than 1,000 sounds available to enhance your drumming sessions
+ Perfect for both live performances and studio training
+ Use of mylar heads for a better rebound


WHAT OUR TEAM THOUGHT
Whether you are looking for a new drum kit or your first ever purchase, the Roland TD-11K is used extensively by both parties. Despite its age, it also still manages to be in the top 100 ranks on Amazon where all kinds of brands are listed. Taking that into consideration, there is no way to go wrong with this well-developed and well-aged piece of gear!
The Alesis DM10 is a professional digital kit that also has its place in the top 50 of its kind on Amazon. If you will decide to settle for this kit, there is no doubt it will allow you to give out fantastic live shows with great sound whether you are in your garage on or on stage! You might also like the Alesis Surge Mesh Drum Kit.
Read the complete review
Check out Music Critic's in-depth article 10 Best Electronic Drum Sets of 2019 which includes even more information.
Similar head-to-head comparisons: