1 on 1 Testing
Trying to decide between two models? Find out what separates these two items with the full comparison review below. If you would like to see more product comparisons from the same category, click here.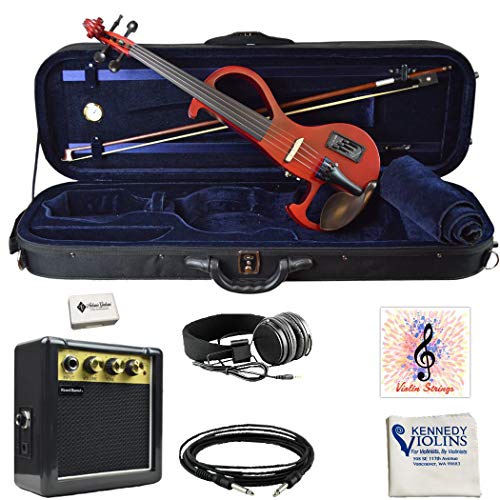 Everyone has different preferences and priorities, so to make choosing easier we have attempted to give a frank review of the products. Let's start with the Bunnel EDGE Electric Violin Outfit. The Bunnel EDGE Electric Violin Outfit is great for violinists who want to get everything they need in one package. There are lots of handy accessories included with your purchase, and the sound quality is very impressive too!

The second product we will be examining in this comparison is the Wood Violin Stingray SV Series Electric Violin Metallic Black. If you're looking for an awesome-looking electric violin that's perfect for hard rock, metal, and other similar genres, then we think this might be the product for you. There aren't many other violins around that look as cool as this one. It doesn't just look good, though. It sounds incredible too. Check out this video so you can hear exactly what it sounds like.
More about the Bunnel EDGE Electric Violin Outfit
Here is a video of a violinist playing it so that you can hear what it sounds like:
Reasons to buy the Wood Violin Stingray SV Series Electric Violin Metallic Black
[lyte id="UwrzPJvAP-g" /]
HEAD TO HEAD COMPARISON

Bunnel EDGE Electric Violin Outfit

Wood Violin Stingray SV Series Electric Violin Metallic Black

KEY FEATURES


+ Lots of equipment included

+ Understated appearance

+ Lifetime warranty

+ Excellent sound quality



+ Cool design
+ 4-string and 5-string version
+ Ergonomic
+ Lightweight



WHAT OUR TEAM THOUGHT

This violin is great for beginners as well as intermediate and advanced violinists. It delivers excellent sound quality, and it comes with all the essential accessories you need to get started. It even comes with a lifetime warranty and a 45-day money-back guarantee. This violin is also ideal for violinists who want to be able to practice silently without worrying about disturbing their neighbors. All you need to do is to plug in your headphones and you can get lost in the music without anyone else hearing it. Considering the multitude of accessories it comes with, as well as the superb sound quality that it delivers, we think that this instrument delivers exceptional value-for-money.

This is the perfect electric violin for rockers and metalheads. It looks and sounds great! You can choose whether you want four strings or five strings, with the latter allowing you to play lower notes. It's an eye-catcher, so be prepared for lots of comments and admiring glances when you're playing this beauty. The only downside is that the only accessory that it comes with is a black case, so you will need to buy a bow separately. Other than that, we can't find anything to fault this gorgeous instrument.
Want to find out more?
Also see Music Critic's article Top 10 Best Electric Violins which includes even more information.
Similar Product reviews: