1 vs 1 Comparison
We take a look at two popular items, the Alesis Coda Pro and the Yamaha YPG-235. Our tests and reviews can help point you towards models and brands that suit your needs. This article is part of a series called Top 10 Best Digital Pianos Under $500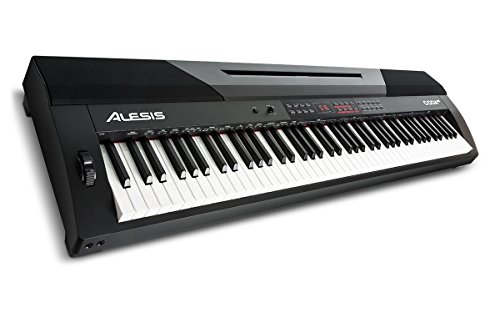 Let's get started by taking a close look at the Alesis Coda Pro. You might have thought the first piano we looked at was OK, but isn't there anything with more buttons and fun stuff to play around with? Many pianists like to have the option to change up their sound once in a while, which for some is actually reason enough to have a digital piano instead of on an acoustic one. If you identify with this, chances are that you're going to like Alesis Coda Pro 88key digital piano. It has 20 voices and allows you to split or layer two voices (split mode). This means that if you, for example, want to play strings with your right hand and piano with your left, you can do it!

Next up is the Yamaha YPG-235. Another piano that is great if you're looking for more of a hybrid between a digital piano and a keyboard is Yamaha YPG-235. It has 76 keys, so it's not full-sized, but close enough for many. The keys are not weighted hammer action, so this piano is more suitable for modern music like pop and rock. The fact that this piano has almost 500 different voices, 160 styles of accompaniment that follows along with the chords you play and 30 preset songs makes it ideal for named genres as well, and if you need a musical instrument to record music this is a great option. It connects to your computer via USB connection. The only downside to be aware of is that the power adapter is sold separately. You can either by one or use AA batteries. If you want to know more about this piano, check out this video:
Examining the Alesis Coda Pro
Another good thing with this Alesis Coda Pro 88key digital piano is that it has a teaching mode, so if you have a piano teacher that comes over to your place or even if you are teaching students in your home, you can with the press of a button take the lower end of the keyboard up a couple of octaves so that when you're sitting to the left of your student, you can demonstrate on the lower keys but get the sound in the right octave. No more leaning over your student to try to reach!
HEAD TO HEAD COMPARISON
Alesis Coda Pro
Yamaha YPG-235
KEY FEATURES
+ Full size 88key digital piano
+ 20 voices
+ Split or layer two voices simultaneously
+ USB-MIDI port


+ 76 keys
+ Compact and portable
+ Nearly 500 voices
+ 160 preset styles
+ 30 preset songs
+ Built-in recording feature


WHAT OUR TEAM THOUGHT
We imagine there are many pianists that could benefit from this piano. It's very affordable considering what you get for your money. If you teach the piano a little bit on the side and want to be able to split the keyboard so that you can demonstrate the music in the right octave this is a bargain. Beginners as well as intermediate players can have a lot of fun with this piano, and it has got hammer keys action so that it feels like playing an acoustic piano. Alesis are known for making great pianos for beginners! Keyboard beginners might want to checkout these beginner-friendly keyboards.
This piano/keyboard is perfect for anybody that wants to be able to use many different sounds, for example when producing their own music. This is not the right musical instrument for somebody that plays classical music or somebody who practices a couple of hours every day, but rather somebody who needs to have access to a keyboard for different musical purposes. It is a great keyboard in this price range.
Want to find out more?
You might also be interested in Music Critic's in-depth article on this topic, Top 10 Best Digital Pianos Under $500.
See more head-to-head comparisons of products: